I don't know about you, but sometimes buying off a registry gets a little boring. Whether it is a baby shower, bridal shower, or one of those wedding gift baskets from Broadway Basketeers, I prefer to be a bit picky as I select a gift to give.
One of my favorite types of gifts to give are handcrafted ones – the kind that I have poured my love into through the time and effort spent on creating them.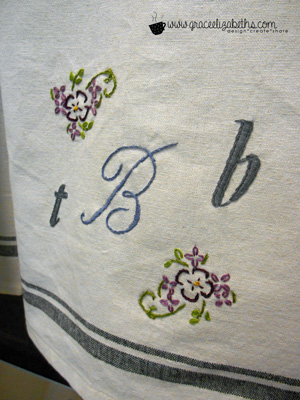 This desire to give heartfelt gifts made by yours truly began when I was young. My parents and sisters can attest that I loved to give – whether it was a picture I drew, a story I wrote, or a handwritten note. I think I fell in love with the reactions my family and friends would have as they felt loved by the thought, care, and time I spent creating something just for them.
As I have become more skilled in the art of needlework, the gifts I give usually flow out of the type of craft I'm most excited about at the time. For instance, when one of my friends had her first baby boy, I was all about sewing and made a cuddly teddy bear just for him! Since then I've made 5 other bears for baby showers because they are just so unique and fun to make.
This summer John and I have been invited to attend at least 4 weddings of friends and family, but sadly we are unable to attend most of them because of our work with The Navigators in Florida. Therefore, I feel even more strongly about taking the time to create beautiful gifts for each of the couples.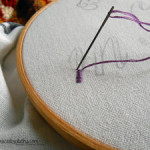 After much deliberation, I decided that the most perfectly pleasant (and simple) wedding gift that I could give would be these hand-embroidered dish towels.
I first came up with the idea when I was thinking about the types of needlework I had been playing with recently and realized that I hadn't embroidered anything for years. So I decided that I wanted an embroidery project and realized that monogrammed dish towels would make a beautiful gift!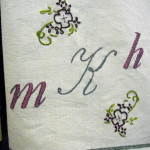 I found the alphabet and designs at my local Hobby Lobby, ironed them onto these nifty dish towels found at the same store, grabbed some new embroidery thread, and brushed up on my embroidery stitches via YouTube!
Each couple will receive a set of 2 towels, one with a monogram and the other with a hummingbird. I chose the hummingbird design primarily because it reminded me of my grandparents who have passed and because one of the brides this summer is my cousin Brianna.
Brianna and I are only a couple of months apart in age, and so Grandma would frequently have both of us at her house because we would play so well together. Both my grandma and grandpa Nelsen were avid birdwatchers, and so it was always fun to watch the birds outside their window when we visited. The hummingbirds were my favorite as they sipped nectar from the bird feeder, their wings beating together so quickly that they were only a blur. I was mesmerized by the way they would hover over a flower or near the feeder.
Brianna's wedding is the first one of the cousins' since Grandpa died this past fall, so it breaks my heart not to be there with her and our family. However, I'm excited for her as she starts her married life with Travis, and I hope that when she uses these towels, she will be reminded of fond memories of Grandma and Grandpa!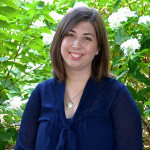 Courtney is a member of the GE Creative Team and is the monkey in the middle of this trio of sisters. Her degree might be in English and Spanish Education, but she's following God's call on her life and pursuing full time ministry with The Navigators. If she's not crafting, reading, or hanging with her hubby, you'll probably find her at a local coffee shop sipping her caramel latte and opening up the Bible with college women.