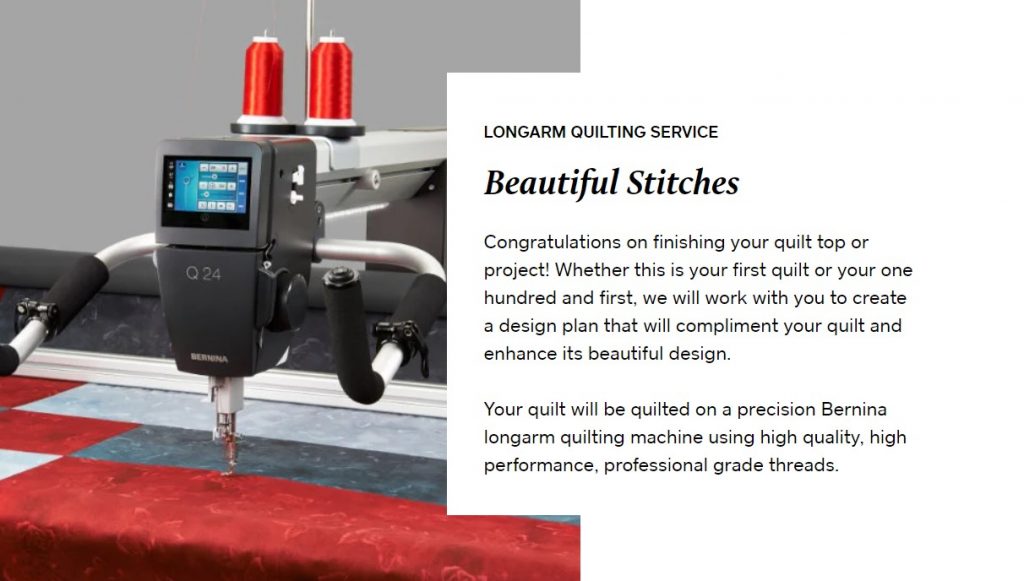 Edge-to-Edge Quilting
I specialize in edge-to-edge (E-2-E) quilting with the hopes to soon offer semi-custom and custom quilting. E-2-E quilting is quilting a single design in a row from one edge of the quilt to the other, then repeating until the entire quilt is covered. Sometimes it is called an all-over design. The computerized Bernina stitches the E-2-E designs to perfection.


"I remember the first time I saw a quilt quilted on a longarm machine. It was candy to my eyes and I couldn't stop softly brushing my hands over the precision stitching. You know what I'm talking about, right?! And honestly, I still quilt a row or two and pause to take it all in. Your quilts are beautiful when they arrive. And when they leave, they leave with the icing on the top."

Sonya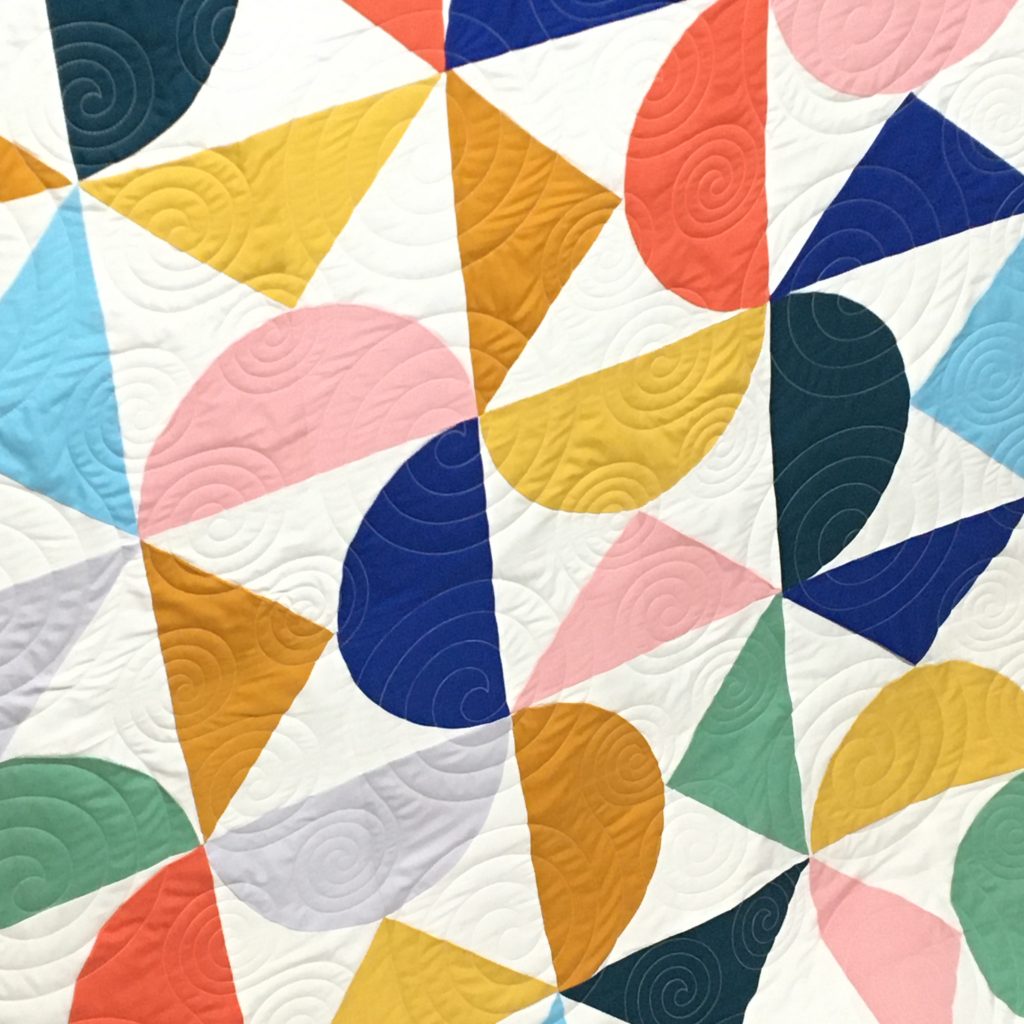 Pricing
Edge-to-Edge Quilting – Labor and thread are included with a $50 minimum fee.
Price per square inch starts at $0.025.
Limited Semi-custom and Custom quilting are available starting at $0.05 per square inch.
Basic cost estimate:
Length ____________ X Width ____________ = ___________sq inches
Cost Estimate $fee (.025) x Sq Inches = __________ ($50 min.)
e.g. 65″ x 80″ = 5,200 sq inches $.025 x 5,200 = $130.00
Note: Maximum width of quilt is 108" due to quilting frame width restraints. If you have a quilt wider than this, I can refer you to another quilting service.
Let's Get Started!
Are you ready to have the icing added to your quilt top?
Local – If you are local, you're welcome to drop off your quilt at my studio. Simply reserve your place in line by selecting and making a deposit for the E-2-E design of your choice online and contact me for an appointment. I am located in NW Lincoln (Fallbrook neighborhood in Lincoln, NE).
Not-Local – If you do not live in the area, Simply reserve your place in line by selecting and making a deposit for the E-2-E design of your choice online, complete the "Order Form for Quilting Services" and ship your quilt to my studio.
Need Assistance – Not a problem, I love helping clients with design plans. Just drop me an email or give me a call. If you are local, we can set up an appointment to discuss your plan.

Note: When selecting the E-2-E design on the online shop, you are putting a $50 deposit down on your quilting service. Once the quilt is quilted, an invoice will be emailed for the total cost of the quilting service and any additional supplies or charges. The $50 deposit will go towards those fees. i.e. if the quilting service charge is $150, $50 is subtracted and your remaining balance would be $100.
 
Special request for an edge-to-edge design 
I get this request often. Provide me with specifics (picture, and if possible…design name, designer, website you saw it) and I will get back to you. The special request design fee starts at $10. The main websites I purchase designs from are Urban Elementz and Quilts Complete. There are oodles of others and you will see several of the designs repeated.

AVAILABLE SUPPLIES
Variegated thread – $8.00
Batting is a big part of the quilting sandwich and we hope you choose to buy it from us. No need to pay extra shipping when sending us your quilt top with the added weight and bulk of batting. We love Quilters Dream Batting. This premium quality, made-in-the-USA quilt batting will provide warmth, drape, volume, definition, and support to your quilt through generations. It's a dream to quilt and we know you will love it! Check out our page on batting HERE. Of course, you are allowed to provide your own batting. Most brands work well however we do reserve the right to reject a batting.
View Batting Price List >>>

ADDITIONAL SERVICES:
Binding Options
Return quilt with edges unfinished (no binding) – $0.00
GE makes binding (this includes cutting and joining strips out of fabric the customer provides) – $20 You do have the option to provide the binding and this cost would be eliminated.
Binding sewn on the front of the quilt, you finish. – $0.06 per linear inch. ($15 minimum)
Binding sewn on the front of the quilt and finished with machine stitching. – $0.15 per linear inch. ($30 minimum)
Binding sewn on the front of the quilt and finished with hand stitching. – $0.30 per linear inch. ($60 minimum)
Squaring up backing – $10
Prep of backing by GE – measuring, seaming, squaring, and pressing – $30
Misc charge – this could include pressing due to excessive wrinkling, securing loose edge seams, clipping excessive threads, etc. (This does not include the necessary light pressing due to shipping wrinkles) – $30/hour. To avoid this extra charge, refer to the "Preparation of my Quilt" page. You will be contacted before any of these extra charges will be assessed.

Final Invoice and Shipping – are discussed on the "Order Form for Quilting Services".
If you have any questions check out our FAQ page. If they are not answered there feel free to call me at 402-910-8085 or email info@graceelizabeths.com.
Terms and Prices are subject to change. Last updated 10/30/2023.