So this is a bit of a belated post. I actually completed this scarf back in January when I was too busy to post about it, but here's the finished product!
Using the left over yarn from my other scarf (Lion Brand – Hometown USA, Los Angeles Tan), I whipped up this beautiful cowl. For this one, I experimented with the seed stitch to make this sweet texture. The seed stitch is when you knit 1 then purl 1 for an entire row and then to the opposite on the reverse side so that everywhere there was a purl stitch there is now a knit stitch and so on.
I think I cast on 22 stitches for this width and used size 15 needles. I made this scarf before I knew the kitchener stitch to make the seam invisible, so instead I just stitched the ends together with my needle and thread. You can definitely see where the ends come together, but I don't mind.
Seeing as how it is officially spring, there will no longer be any need to make more scarves this season. But don't worry, there'll be plenty more next year, I'm sure.
~Courtney Rose~
What spring projects are you beginning?
Related Articles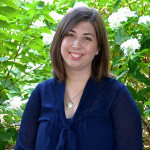 Courtney is a member of the GE Creative Team and is the monkey in the middle of this trio of sisters. Her degree might be in English and Spanish Education, but she's following God's call on her life and pursuing full time ministry with The Navigators. If she's not crafting, reading, or hanging with her hubby, you'll probably find her at a local coffee shop sipping her caramel latte and opening up the Bible with college women.