Once again, I've returned to one of my passions: knitting. This time I thought I'd try an infinity scarf, which means that it is connected as a continuous loop.
This was a fun one to make because it was just so simple! I just used a rib stitch (knit, purl) as the pattern. The one challenge it posed though was the connection, but the remedy was to try out a fancy new stitch: the kitchener stitch. This stitch is used to fasten the two ends together in a way that it continues the pattern and becomes invisible. After watching the following tutorial and reading her instructions, I was able to modify it to my 1 knit, 1 purl pattern.
For my scarf I used Lion Brand Yarn – Hometown USA, super bulky weight, in Lake Tahoe Blue and size 13 needles. For the width I desired, I cast-on 18 stitches using the provisional cast-on method.  This cast-on gave me live stitches in order to connect both ends using the kitchener stitch.  If you do not know how to do a provincial cast-on go to the knittinghelp.com website.
You could definitely make variations of this scarf to add your own twist. Try a different weight of yarn, size of needles, or number of stitches cast-on! Then post pictures so we can see how yours turn out!
~Courtney Rose~
Have you ever used the kitchener stitch before? Did it give you any troubles?
Related Articles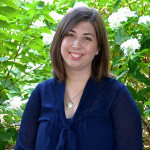 Courtney is a member of the GE Creative Team and is the monkey in the middle of this trio of sisters. Her degree might be in English and Spanish Education, but she's following God's call on her life and pursuing full time ministry with The Navigators. If she's not crafting, reading, or hanging with her hubby, you'll probably find her at a local coffee shop sipping her caramel latte and opening up the Bible with college women.