Elephants and penguins and bears, oh my! It's been a while since Sweetwater designed a fabric collection for kids. Animal Crackers by Sweetwater is delightfully delicious and are approved for bedtime! The animals are definitely the stars of the show in this collection.
Our focus today is the the Duck Duck Moo baby quilt pattern. It's design is based off the fabric panel of 12 adorable animals and uses a honey bun (1.5″ strips by the width of fabric).  I'll be honest, I don't use panels much when quilting but when I saw this offering by Moda I couldn't resist. It is a Quick & Easy project.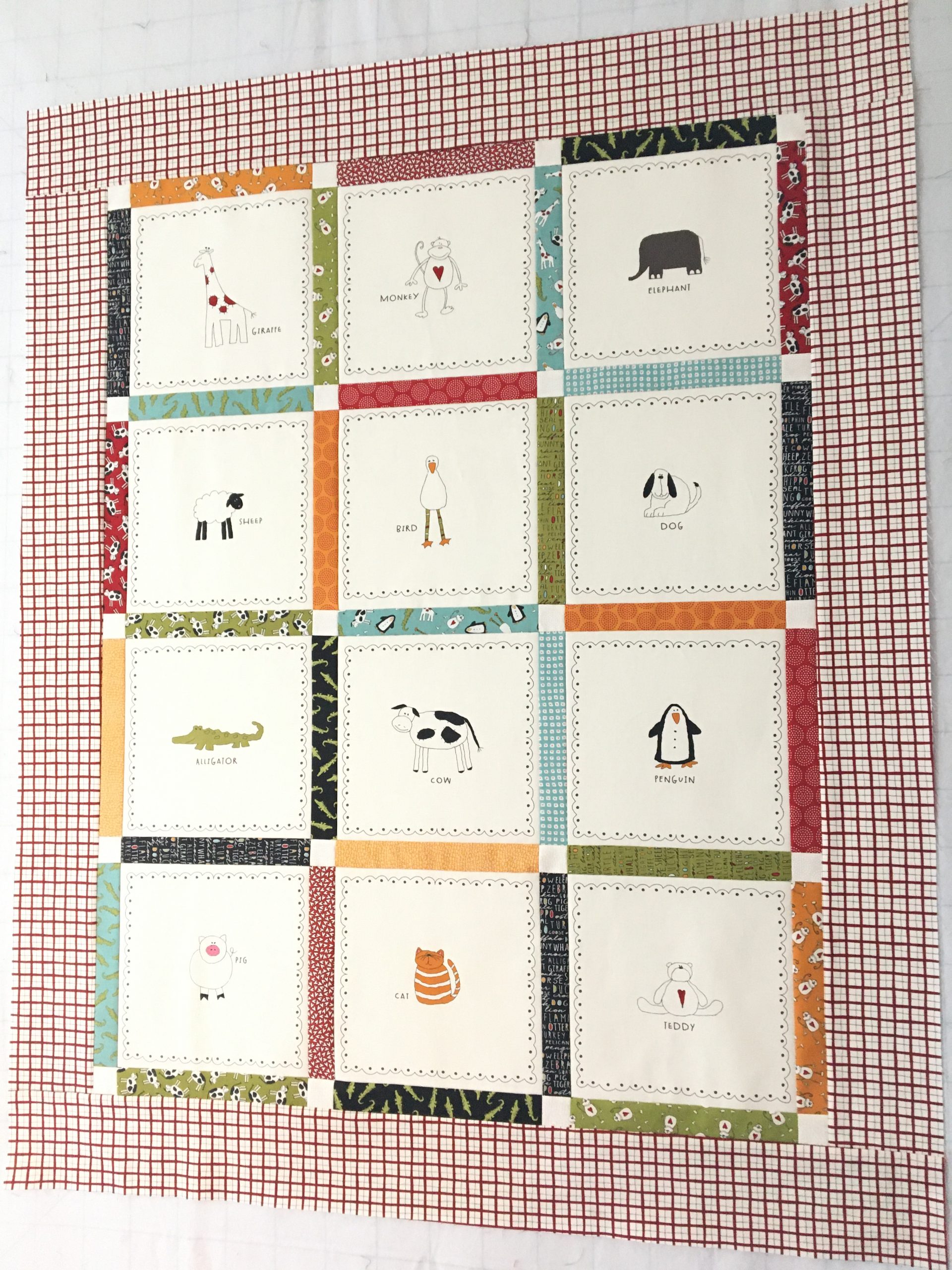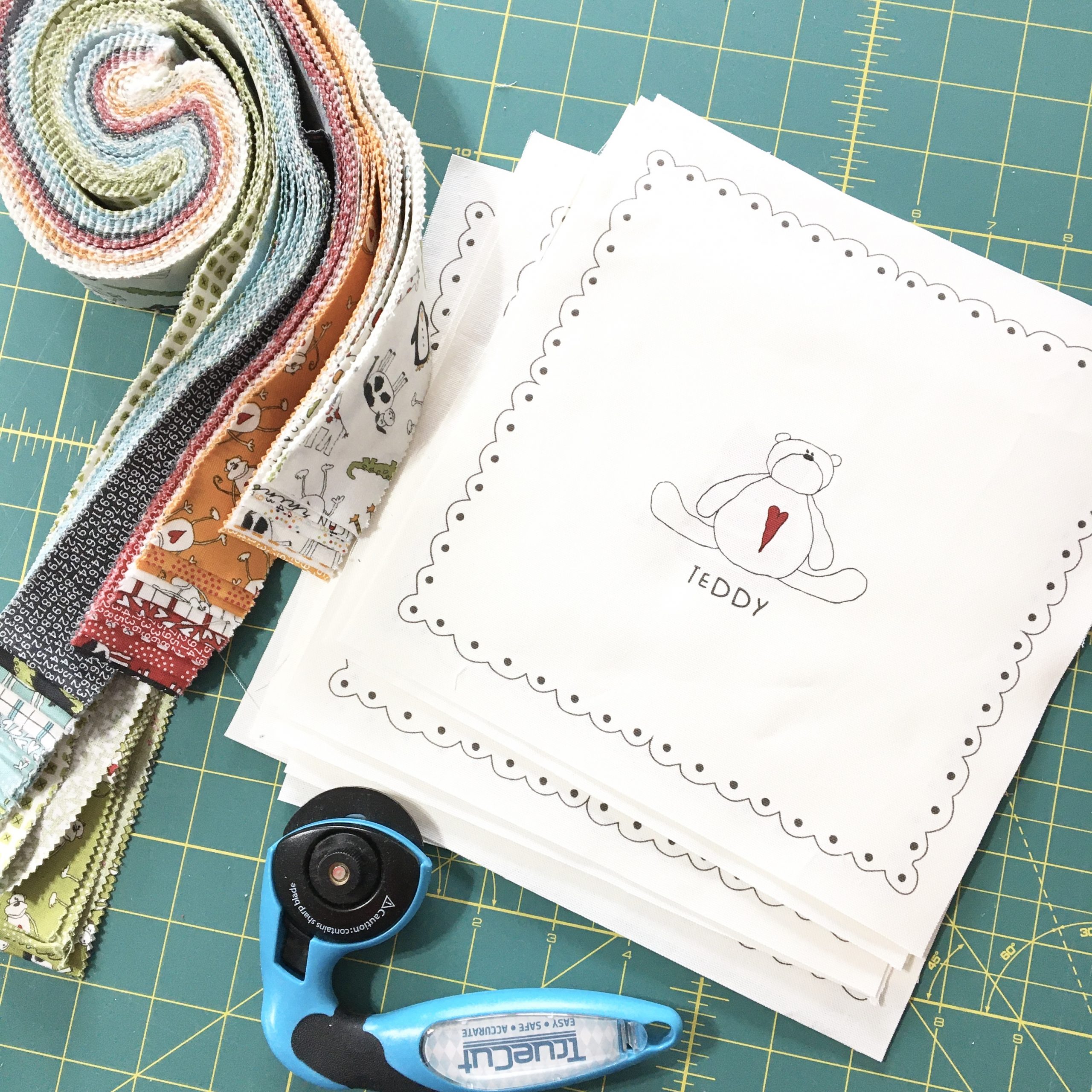 What, no need for a baby gift today? Hey, I don't have anyone in mind for it yet either, so it's going into the "gift box" for future gifting.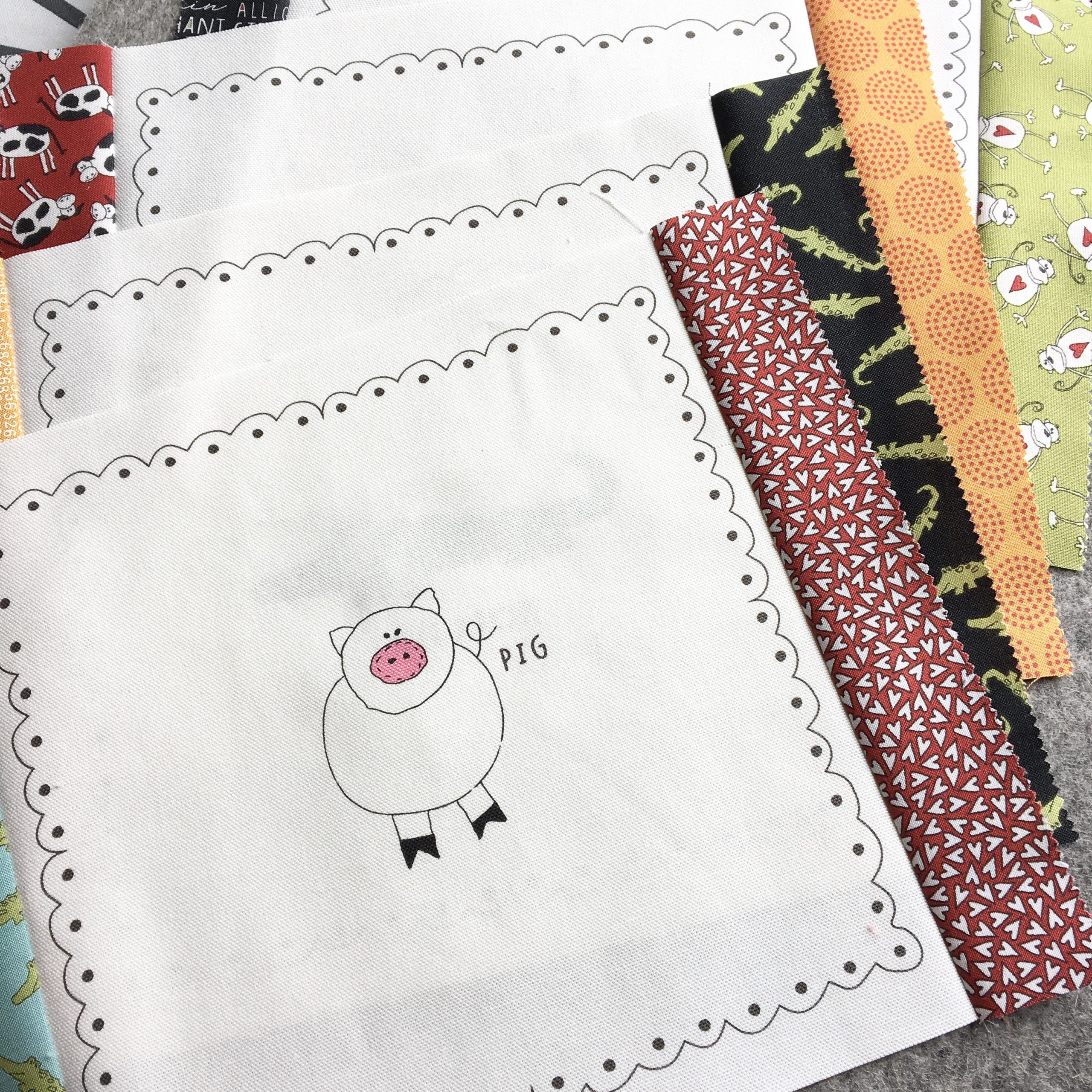 Pattern Review
Duck Duck Moo, at first glance, is a collection specific pattern. In other words it is designed to use Animal Crackers by Sweetwater. However, taking a closer look at this pattern you'll discover it's a basic block grid pattern with sashing and borders. It's a great template for future small/baby quilts. Piece your own blocks according to size, add sashing and borders and you have a quilt. I'm going to add it to my "basics" pattern stash to use over and over.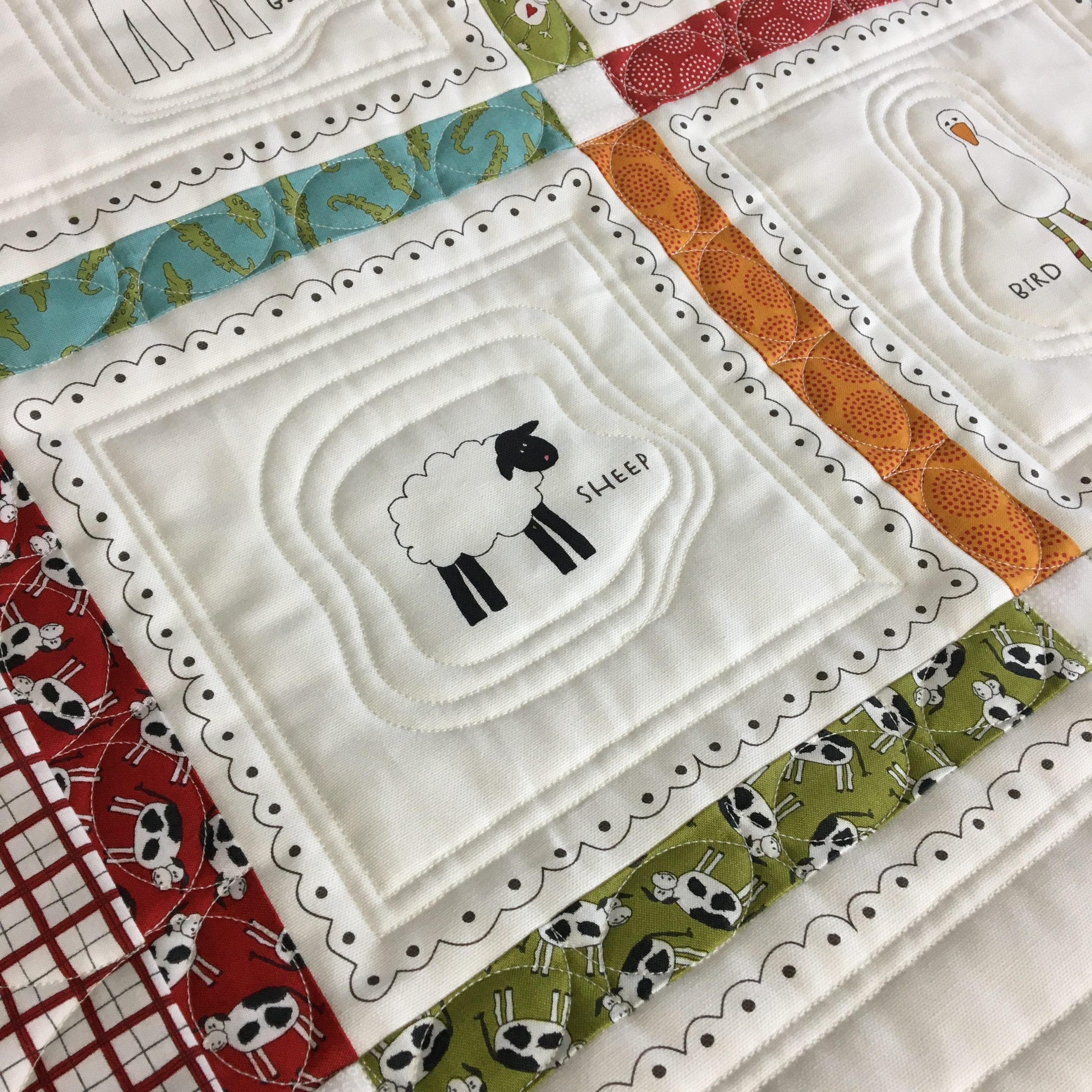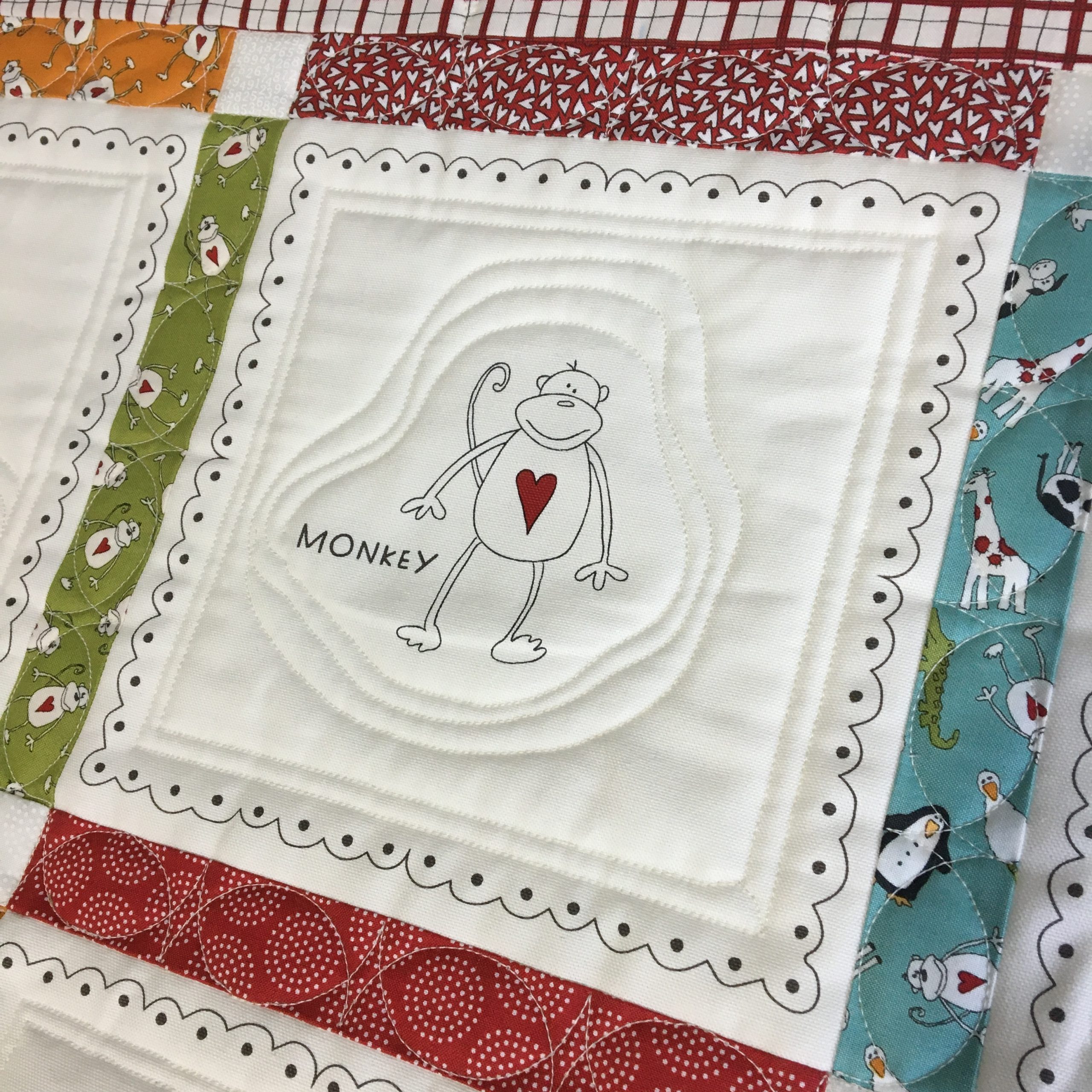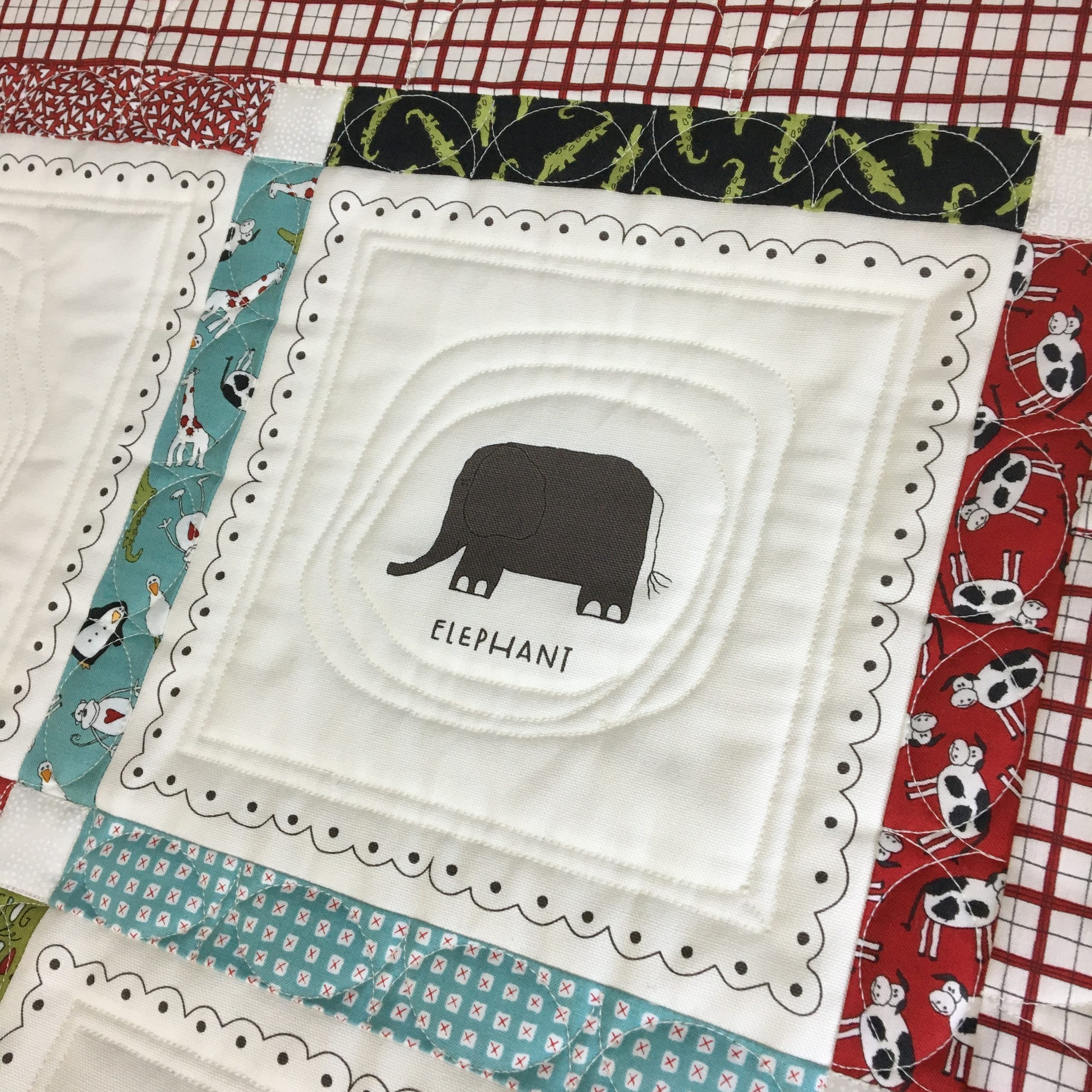 Caution
This is the first pattern I have used designed by Sweetwater. The instructions are very brief and assumes the maker already has quilting knowledge. Since this is a very basic pattern, I'm ok with it and did not have any problems with them. There are graphics which are very helpful to us visual people. My concern lies with the additional materials list. Call me picky, but I don't like buying a lot of extra fabric. Granted, I don't like being short fabric either. Most patterns round up on yardage giving you some extra for possible mistakes and that's expected. The yardage listed for backing is double the amount needed. I'm sure it was just a simple error not caught before printing. It happens.
BACKING:  The pattern calls for 3 yards of fabric for the backing.  I longarm and always add extra for attaching the backing to the longarm frame. The quilt top finishes at 36.5″ x 45.5″ and 1 1/2 yards of fabric for the backing was plenty. My fabric was 44″ wide with salvages – perfect fit for the 36.5″ wide quilt.
CUTE – the Duck Duck Moo quilt pattern and fabric collection Animal Crackers by Sweetwater is adorable. It's been one of my favorites to make and a quick project. Of course there are variations to quilting the panel and other projects. Check out #animalcrackersfabric on Instagram.
QUILT KIT
We have a small number of kits available.  All needed supplies are included – YES, even the batting. For a limited time we are offering $10 off the kit. Use code Crackers10 at checkout while supplies last.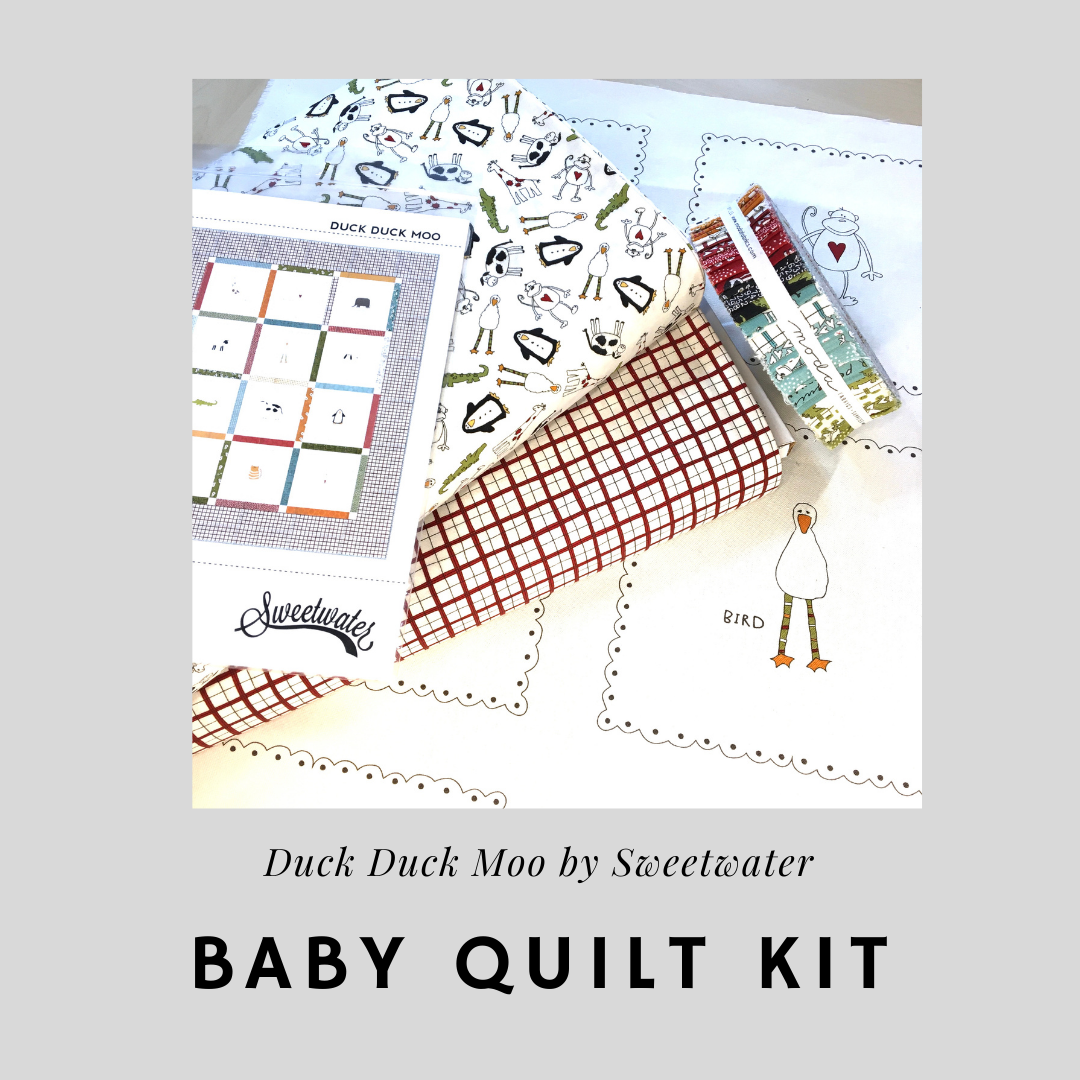 Happy Quilting!
Sonya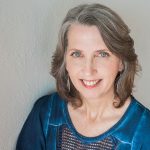 Entrepreneurship flows in Sonya's blood. Some businesses include an artistic rubber stamp manufacturing business, opening and running a bed & breakfast and having a fabric and yarn shop. As a serial entrepreneur she loves to mentor and coach small businesses. She misses farm life, loves to travel and enjoys her husband, children, their spouses and of course the grandkids.