Looking for a quick patriotic project? This quick sew flag door hanger or table runner is the ticket and some of you may already have enough in your stash to get started now.
As Independence Day (July 4th in USA) draws close, I started to reflect on past years celebrating this holiday. Growing up on the farm, July 4th was typically the first day to lay out irrigation pipe. That may not be true, but that's how I remember it.
I recall how upset I was at my dad for making us work on a holiday. The temperature was usually around 100 degrees. We would load up the 10″ x 30′ aluminum pipe onto a trailer, take it to the field to lay it down, connecting the pipes. There was a lot of lifting going on and my dad, being a perfectionist, insisted on leveling the ground under the pipe so it wouldn't bend when the water eventually ran through it. This meant a lot of holding up the pipe – often above my head – while he shoveled dirt to make a nice level track for the pipe to lay flat. This process and several loads of pipe was an all day job. Ugh! I had other things to do, right?
As a teenager, I always had plans for the evening to go out with friends, or maybe a boyfriend 😉 to a neighboring town. We would gather at the baseball field, lay down our blankets and wait for the fireworks to begin. We are talking small town America here friends. The guys lighting the fireworks were only 100 yards away. So, yes, we had to lie flat on our backs to see the magnificent display of sparks flying in the air. It was fantastic!
Patriotic Decor
There are several times during the year I like to decorate with patriotic decor. I call this pattern the Salute Banner (or table runner) in honor of our military members who have in the past served and sacrificed and who are currently serving and sacrificing to keep us safe and free. This pattern was a collaboration with my friend Carol just a few months before I closed my brick and mortar fabric store. She really did all the construction after I showed her what I was thinking. Thank you Carol! Instructions are written below. If you would like a more concise, detailed pattern, a PDF of the pattern may be purchased for $5 in my shop.
Materials Needed
Red Fabric: 1/2 yard
White Fabric: 1/6 yard
Dark Blue Fabric: 1/2 yard
Backing: included in Dk Blue fabric
Fleece or Fannel: 1/2 yard
Navy perle cotton for Big Stitching (embroidery thread would be a good substitute)
In addition to the above materials, basic sewing tools are needed. The only item that may be out of the ordinary is a fabric glue stick. It isn't imperative to have one but it is very helpful to temporarily adhere the white strips. I am head over heals in love with Sewline's refillable glue stick.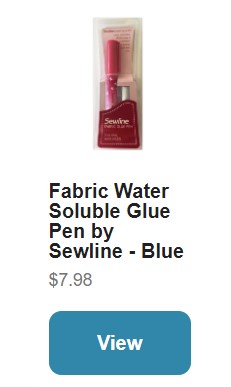 Cut Pieces
Cut the following from red fabric: 14" x 27" rectangle—Flag Body. Cut the following from the white fabric: 4 strips 1" x 27" and 3 stars from star applique template. And from the blue fabric: 14" x 8" rectangle—Flag Top and 14" x 34" rectangle for backing. *for the blue fabric, this will be a tight fit across width of fabric. See diagram below for cutting. 

Piecing
For flag body (red), place first white strip 1 1/2" from left side. Do not sew these down now. Use the fabric glue to keep in place. Place a second white strip 1 1/2" from the right side. Glue in place. Now place the remaining 2 white strips evenly between the first 2 strips. You can just eyeball it. Glue in place.
Next sew flag body to flag top. With right sides facing each other, place flag top to one end of flag body making sure the white strips do not shift. Sew 1/2" seam. Press.
Time to sandwich the pieces. With right sides facing each other, place backing and banner top together making sure white stripes do not shift. Now place the fleece (or flannel) on the wrong side of the banner top. Sew around edges leaving a 6" area unsewn for turning. Clip corners and turn banner inside out. Press. Hand stitch opening closed.
For stars, place stars on banner, holding in place with fabric glue. Big stitch 1/4" from edge around stars and sides of white strips with perle cotton or embroidery thread.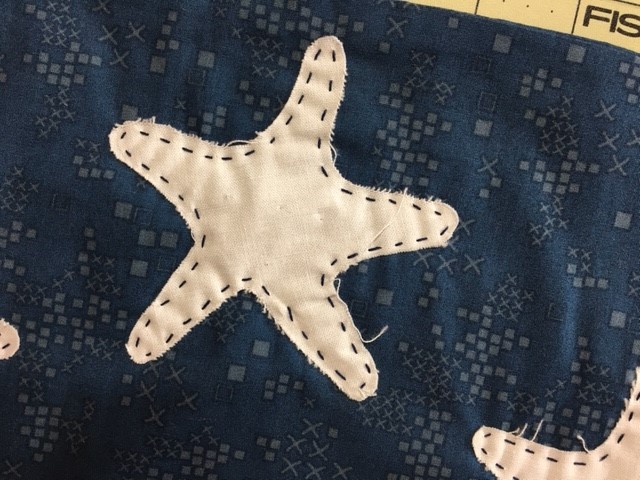 Happy Quilting – God Bless!
Sonya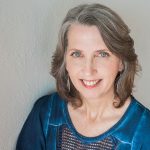 Entrepreneurship flows in Sonya's blood. Some businesses include an artistic rubber stamp manufacturing business, opening and running a bed & breakfast and having a fabric and yarn shop. As a serial entrepreneur she loves to mentor and coach small businesses. She misses farm life, loves to travel and enjoys her husband, children, their spouses and of course the grandkids.