How are you doing? Are you going a little stir crazy during this COVID-19 stay at home mandate? For those of you who work essential jobs, I want to thank you for your time in holding us together and for risking illness or even death to serve us. You are truly heroes in my book, and I hope you know you are appreciated.
Pushing the Refresh Button
Like many of you, I have taken time to reflect on life. As an introvert, this staying at home is heaven. OK, honestly, I'm ready for some socializing and maybe that is why I felt compelled to start up my blog again. Besides, I'm a little excited to share with you some exciting news but you will have to wait until next week to hear it. Grace Elizabeth is hitting the reset button but what does that mean? What does that look like?
WIP Mania
In the meantime , tell me what you have been doing during COVID-19. Have you been sewing or quilting? I decided it would be a great time to pull out some WIPs (work-in-progress). With the uncertainty of the economy it's a good time to use what you have, right? Here is my list. You may have seen some of these on Instagram (graceelizabethsinc) or Facebook (graceelizabethsinc).
5 quilts finished, one using my old jeans and another for a sweet young woman aging out of the foster care system. Watch for details in future articles.
A Catch all Caddy (pattern by ByAnnie)
Machine embroidered coasters
and of course, face masks for venturing out of the house to the grocery store.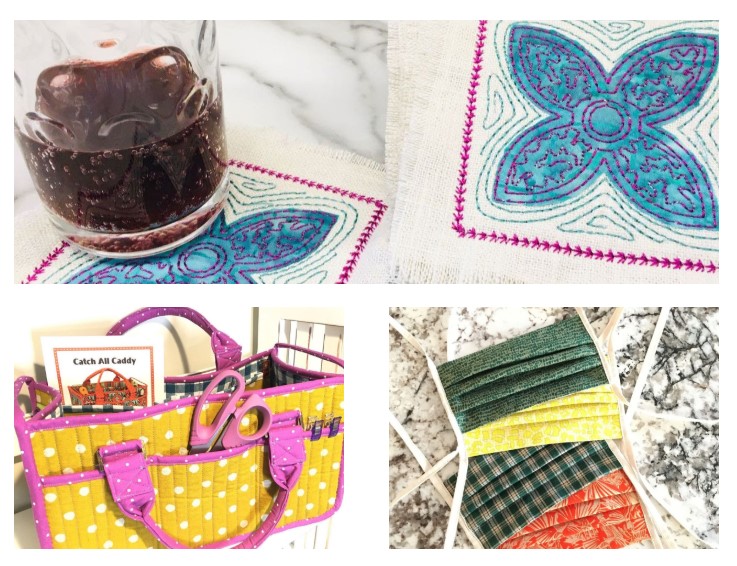 To close this week's note, I thought I would re-introduce myself. Some of you don't know my story so here it goes…

Hi, my name is Sonya – not Grace like so many of you might think. My business name Grace Elizabeth's was named after my grandmother. You can read this back story here.

I love to create! – I grew up with a mom that was great at everything handmade. She cooked, baked, sewed, had the best flower gardens and vegetable garden, she made all sorts of craft projects inspired by magazines and mail order craft kit companies. She did it all and I'm blessed to follow in her footsteps. My best memories are sewing my own clothes, quilting, embroidering, knitting, crocheting and making odd craft projects like Christmas ornaments. One year we made a Christmas tree (wall hanging) out of egg cartons, glue and glitter. I know, it sounds weird, but it was beautiful to my 5-year-old eyes.

College included degrees in Fashion Merchandising and Business Administration. I've held positions in retail, non-profit organizations and started a few of own businesses. One of my first retail jobs was with a company that sold women's ready-to-wear clothing, furs and wedding gowns. It was so fun! I also worked at a leather shop selling leather coats, blazers, skirts and pants – crazy right? Then it happened…I got a job at a fabric and crafts store. Life has never been the same, ha-ha. The next couple of decades were filled with raising our three girls and passing along the creative bug.

A few years ago, I had an opportunity to become part-owner of a boutique fabric and yarn shop. I had lost touch with the sewing and quilting industry over the years but liked what I was seeing; designer fabrics, modern quilt design and easy access to longarm quilting. I have been a quilter on and off for 4 decades. Now that I am an empty nester, it has become my jam. By no means do I claim to know everything about quilting. I don't think anyone does. It is an amazing fluid art. It's been a joy to continue learning and a privilege to teach others what I know.
I hope you have been inspired to pull out some WIPs. I can't wait until next week to reveal my big announcement.
God Bless!
Sonya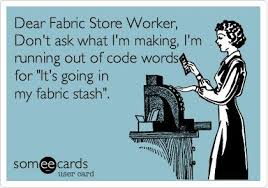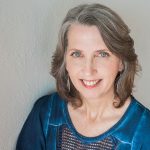 Entrepreneurship flows in Sonya's blood. Some businesses include an artistic rubber stamp manufacturing business, opening and running a bed & breakfast and having a fabric and yarn shop. As a serial entrepreneur she loves to mentor and coach small businesses. She misses farm life, loves to travel and enjoys her husband, children, their spouses and of course the grandkids.