Though I've been knitting for 10+ years now, there are still many stitches, techniques, and projects I have yet to try. Only in the past 5 years have I started to place more value on the craft of knitting and crocheting and trying to improve my skills and learn more.
It can be intimidating to look at a pattern and not know what all the symbols and abbreviations mean. Or try to read it and realize it's basically in another language. Or trying to read it before I start and having no idea what it's talking about because I'm not seeing it or experiencing it (the curse of being a visual learner).
It can also be intimidating to think about trying something new or at a greater difficulty level when you've grown up watching my mom knit. Though my mom would be the first to admit that she is still learning about this craft too, she is never fearful of tackling the difficult or unknown and she executes it skillfully.
I've grown up watching her knit blankets, socks, baby clothes, scarves, sweaters, and more. And with each project she always seems to find ways to improve upon the pattern. I couldn't even tell you how many times I've asked my mom about a project she's working on and she says, "Oh well I started with this pattern here, but it didn't make sense so I rewrote this part" or "I got this idea from here, and then added this stitch pattern to it to make it my own." And even when she runs into problems, she handles them with skill – always seeming to know what went wrong or how to correct the mistake.
So I'm taking one from her book and choosing to be fearless about firsts and the unknown. I've always thought knitting socks as outside my skill level. (And I would get headaches just thinking about staring at that itty bitty yarn for hours) And no matter how many times my mom assured me that it was less complicated than I imagined, I refused to believe her.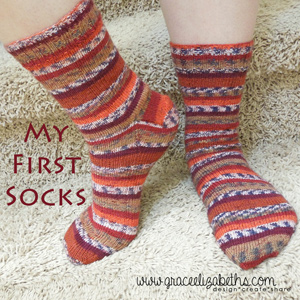 Well, this past year I finally developed the urge to knit socks, so with the support of my mom and the internet I took a chance and faced this first without fear!
Mom's first suggestion was to choose a simple sock pattern – nothing with fancy designs or techniques. Just straight forward socks. So I jumped on Ravelry and found this pattern that seemed simple enough, and the directions included some helpful pictures! (My favorite!)
Then I set out to find the perfect yarn for the project. Usually I'm disappointed by the yarn selection at my local Hobby Lobby, but in the case of this project I hit gold! I absolutely love the striping pattern and the colors of Premier Yarn
– and even Mom was jealous that I found such fun yarn!
As I started knitting according to the pattern instructions, I remembered the dreaded "second sock syndrome" that my mom experienced when she first started knitting socks. If you haven't heard of it, second sock syndrome is when you knit one sock at a time and the second sock is cursed to be a different size. This happens because you can never recreate the precise tension you use as you knit one sock for the other. Pretty much the only cure for second sock syndrome is to knit both socks at the same time. So I bought a second set of double pointed needles and would go back and forth between the two socks as I knit – usually a chunk of 10 rows or so at a time before switching back.
And it worked – I have two socks now that match in size and shape!
The pattern I used was super helpful. It was easy to read and comprehend. The hardest part of knitting these socks was simply that it was my first time. What I mean is that I had no pre-existing concept of the structure of a sock before this project. So that made the heel, heel turn and gusset the most difficult section to understand and complete.
All in all, my first socks turned out pretty well and I'm excited to warm my toes in them this fall! What do you think?
Are you fearless about firsts or too timid to tackle them? Is there a project you haven't quite worked up the courage to try yet?
Join me as I continue to share my journey of being fearless about firsts – what will I tackle next?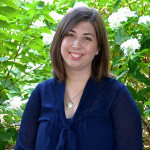 Courtney is a member of the GE Creative Team and is the monkey in the middle of this trio of sisters. Her degree might be in English and Spanish Education, but she's following God's call on her life and pursuing full time ministry with The Navigators. If she's not crafting, reading, or hanging with her hubby, you'll probably find her at a local coffee shop sipping her caramel latte and opening up the Bible with college women.