I had never heard of a "guestbook" quilt prior to Courtney's engagement.  She, however, had been scouring the internet for ideas. She didn't want the typical, traditional guestbook – who would, right?!  With a smirk on my face I wasn't surprised. Creativity was built into the genes of my girls.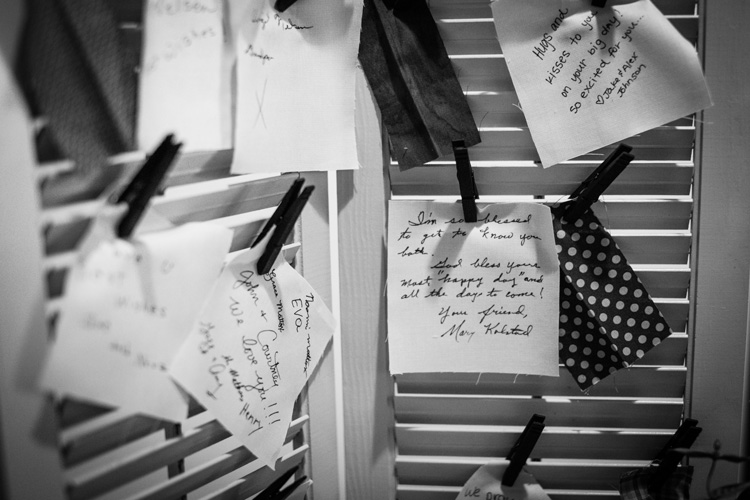 With a few design concepts in mind Courtney decided on a bricks quilt pattern for her and John's guestbook quilt.  Squares of light colored fabric would serve as the "paper" for the signatures and notes of blessings from family and friends. The rectangular pieces, the bricks, would be a collection of rich, fall colors.  Here is a tutorial of this Easy Bricks Quilt by Amy Smart over at Diary of a Quilter which was Courtney's inspiration.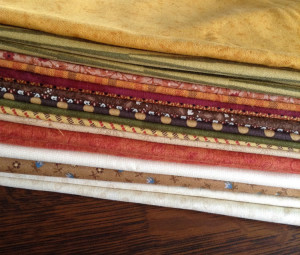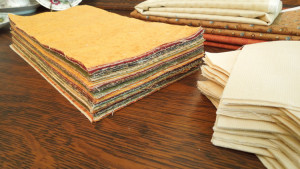 *Several links in this article connect to affiliate companies. GE receives a small cash amount to mention these products if you purchase items.  There is no extra cost to you.
Before the wedding we purchased the fabric, permanent ink pens for fabric (full supply list at end of article) and clip boards to hold the squares down while guest signed the fabric blocks.  We cut out all the blocks for the quilt and took the signature blocks to the wedding.
The guestbook attendant had a very important job explaining the process and moving the line along so the start of the ceremony would not be delayed.  We had 4 clip boards which the attendant kept filled with new blocks and 4 fabric pens.  Those guests who were unable to write their notes before the wedding were asked to do so at the reception.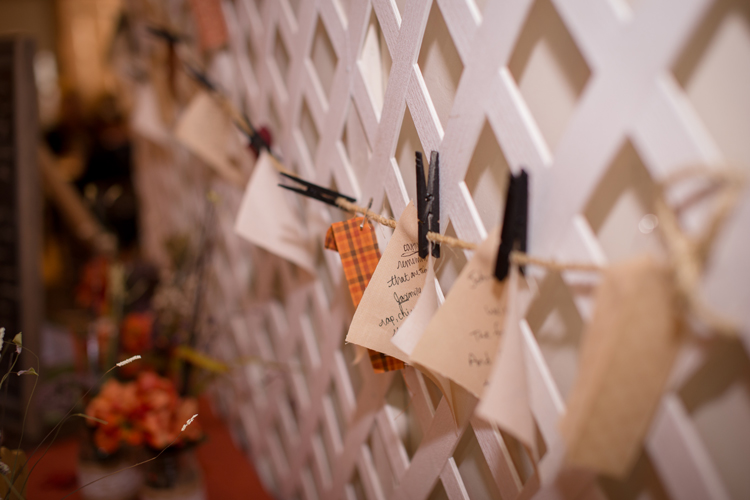 The "wedding shutters" were again used (black and white picture above).  Side note: we had taken off some shutters from windows in our house and Alexandrea creatively used them at her wedding reception to hang vintage family pictures for a display and I think they were used at a high school graduation.  Now Courtney, also being resourceful, used them for a display at the guestbook table.  Once some of the notes were written, they were clipped to the shutters as decoration.  After the ceremony the same shutters with notes were transported to the reception and became a part of a display for those who still needed to "sign" the guestbook. For added detail, ropes were added to the backdrop and more notes were hung as bunting.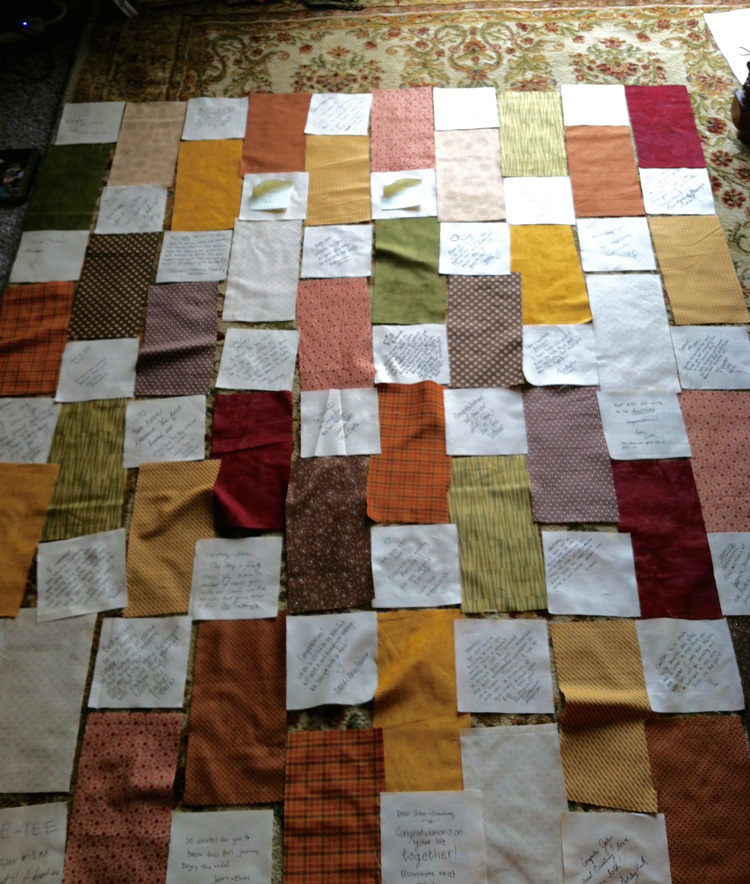 After the wedding it was my job to piece together the quilt. Courtney actually did all the layout, grouping specific friends and family in a organized manner that made the best sense to her and John. My biggest worry was transporting the layout from her house to mine.  We took pictures and picked up each row making notes so that I would not forget.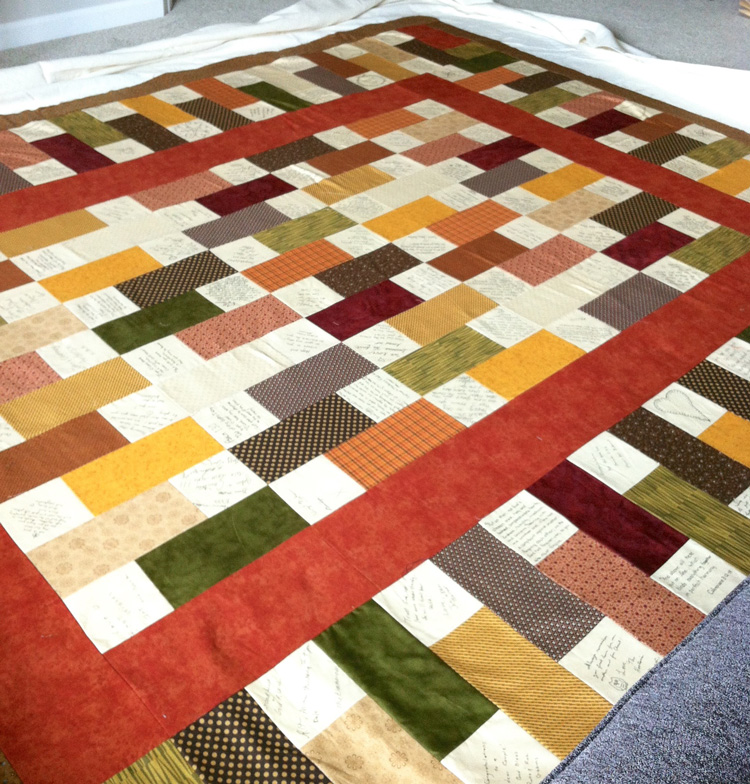 The next challenge was to find the time to sew the pieces together before I forgot our thought process.  We had oodles of signature squares but needed more to complete the quilt. This was a great opportunity to write some special bible verses on random squares and art on the others.
After the quilt top was sewn, it sat untouched for 2-3 months.  Yes, you could say I was procrastinating. In my mind I had a due date of the one year anniversary and had plenty of time. Truthfully, I was at a loss to how I was going to quilt the project.  I could send it out to have it quilted by a long arm quilter, machine quilt it myself or hand quilt it myself.  I was discussing this one day with Alexandrea and she said, "Mom, it would mean more if you would hand quilt it." Ugh, I think that was why I was procrastinating. I knew she was right but I had no desire to hand quilt it. This was going to be a huge undertaking.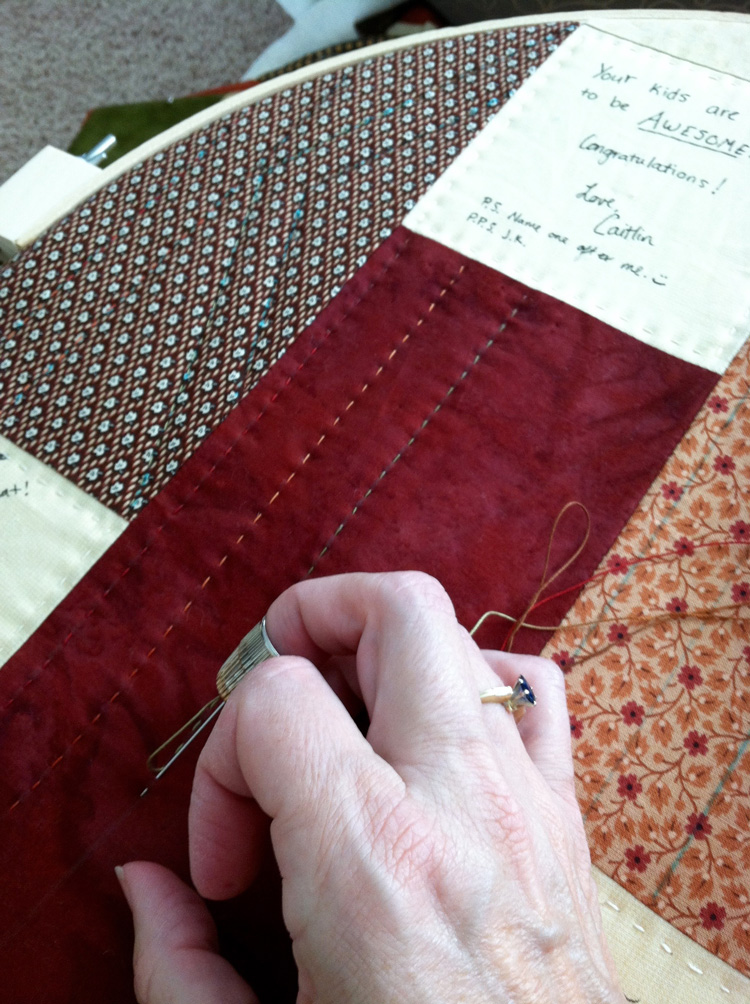 After more days of postponement, I had a thought…I had seen projects online by hand quilters using pearl cotton thread rather than traditional quilting thread.  This thread is bigger, more decorative and best of all was quicker to work with because the stitching was large and farther apart compared to using traditional quilting thread. So off to the store I went to see what was out there. Jackpot.  I looked at the pearl cotton but discovered a thread used for tatting (see supply list below).  There was a varigated color thread that would be perfect for John & Courtney's quilt. It was beautiful stitched and best of all I didn't have to make tiny quilting stitches – Bonus!
How did I decide on the stitching design?  This was another 2-3 days of thought.  I decided to keep it simple, because I really was still in denial that I was going to quilt this huge thing. I outlined the signature blocks with ecru tatting thread. For the long blocks I drew three straight lines and and two chevron lines.  For the large border I decided on a design I found in the book Free-Motion Quilting with Angela Walters
. I used a variation of the design called Atomic Squares. On the small border of the quilt edge I used diamonds.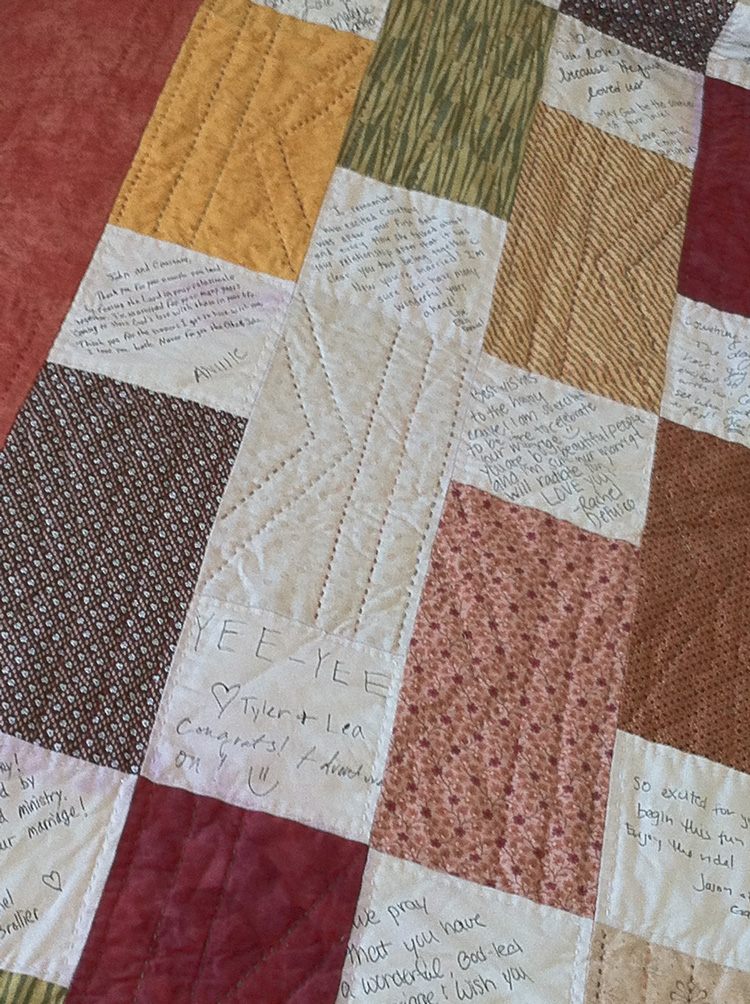 A special treat we discovered after the quilt was pieced, was the creation of crosses from a collection of lighter colored blocks. A great reminder of Christ being the center of their marriage.
A not so great thing happened when I washed the quilt.  I had pre-washed the fabric before I cut out the quilt pieces; however, the cranberry colored fabric bled into adjacent light colored fabrics and we found it in other places too. My heart sank.  All that work and all that this quilt represents was tainted. You can see the bleeding in the picture above.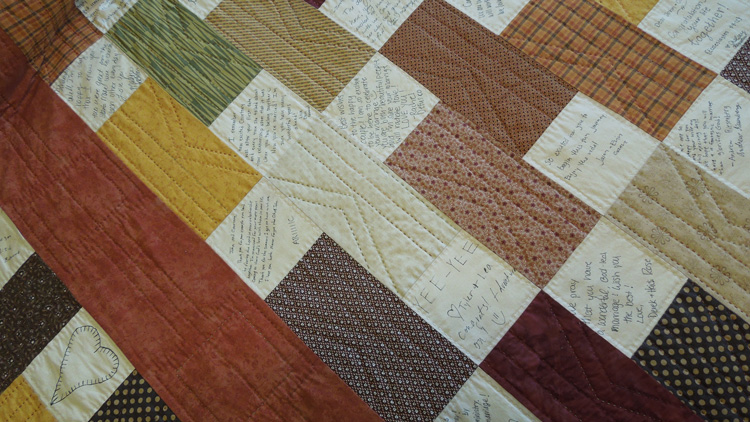 I headed to the internet for suggestions knowing others must have encountered this same problem.  After researching, I decided to try Shout ColorCatcher Dye-trapping sheets
. I initially washed the quilt with 4 sheets and saw a little improvement.  The 4 sheets had obviously collected a lot of dye.  I washed it again. This time with 3 sheets.  I saw more improvement and decided to go for one more cycle. This time I used 2 sheets.  The sheets were barely pink and I was very happy with the look of the quilt. What a relief, I could now present the quilt to John and Courtney with satisfaction that it would be an earthly treasure not an earthly project gone wrong. LOL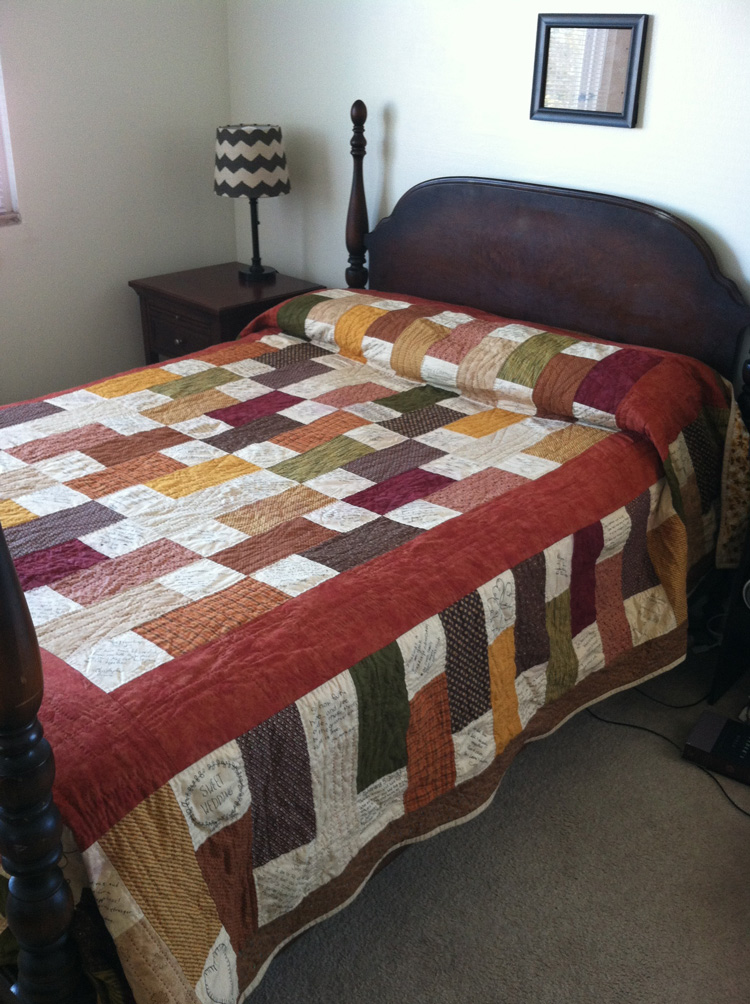 Above is the final project representing John and Courtney's Christian marriage witnessed by family and friends before God. It will keep them warm with memories of loved ones committed to supporting them in their marriage, helping them to strive for a standard unknown to this world and only attained through Christ as the center with the work of the Holy Spirit.
The Wedding Day was beautiful!  Rick and I are so blessed to have all three of our daughters married to wonderful husbands.
Special Supplies Used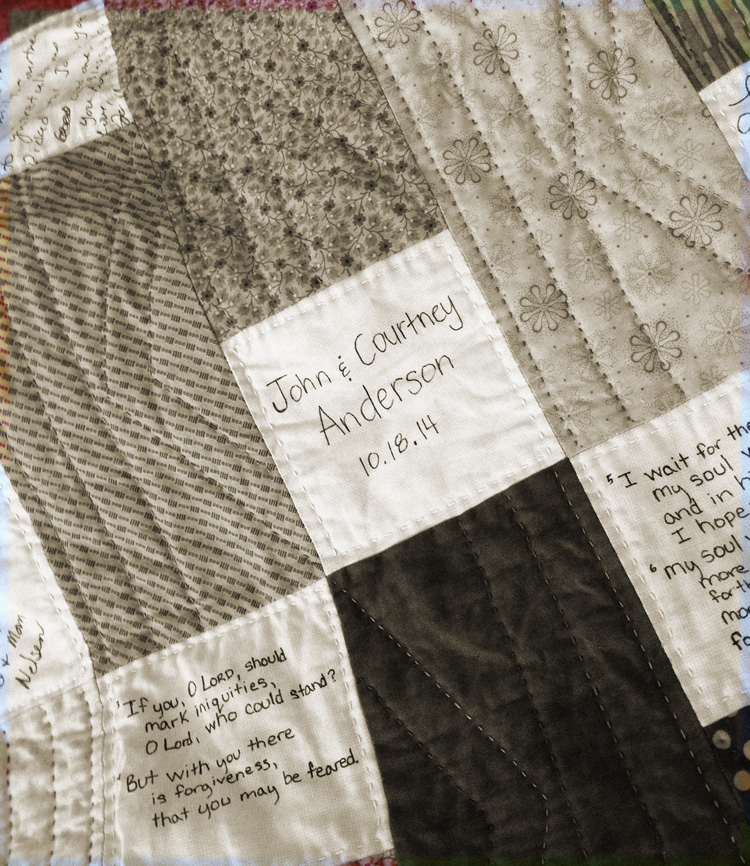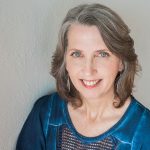 Entrepreneurship flows in Sonya's blood. Some businesses include an artistic rubber stamp manufacturing business, opening and running a bed & breakfast and having a fabric and yarn shop. As a serial entrepreneur she loves to mentor and coach small businesses. She misses farm life, loves to travel and enjoys her husband, children, their spouses and of course the grandkids.