Ever since I first learned how to knit, scarves have been my go-to project. They're pretty straight forward to make, have a purpose, and are fun to wear or give away!
Though I've definitely made more scarves than I have fingers on my hands, I can honestly say that I've never made a scarf specifically for a man. Sure, simple garter stitch or ribbed scarves are pretty gender neutral, but I've never had a reason to give a man a scarf I've made – a bit too personal in my book!
And then I got married 🙂
Since I've always shown love to friends through special handmade gifts, it's natural that I want to express love to John through gifts as well. The challenge is that there just aren't very many needlecraft projects that scream "MAN!"
So as I was seeking handmade Christmas gift ideas for my husband last year, I landed on knitting him a scarf. Like I said, I've knit my fair share of simple scarves, so I began searching for a more challenging pattern and came across this free "manly scarf" pattern on Ravelry from Impeccable Knits. I loved the detailed design, and though it is by no means an exclusively masculine pattern, with the right choice of yarn it can be proudly worn by John.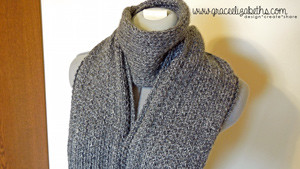 One thing that I love about this pattern is that I had the option of choosing between three versions of it! There was a garter stitch, reverse stockinette stitch, and stockinette stitch version. I chose the stockinette version because it was more subtle and subdued (and because it was John's preference).
In general it was a pretty easy pattern to follow. The most complicated part was that the pattern included the directions to place yarn in back (yb) when that was unnecessary (coming out of a purl combination). Impeccable Knits has recently updated the pattern to clear up any confusion from that direction!
Not sure if this pattern is for you? Here are the stitches you can expect: knit, purl, C2B (knit into the back of the 2nd stitch on left-hand needle, then knit into the 1st stitch on the left-hand needle; slip both of the stitches that have been knit from the left needle), and C2P/C2F (purl into the front of the 2nd stitch on the left-hand needle, purl into the 1st stitch on the left-hand needle; slip both of the stitches that have been purled from the left needle). That probably sounds really complicated, but here is a video that gives you a more visual understanding!
Don't feel intimidated by trying new stitches! I often search youtube to find videos to help me understand a new stitch or concept. And it never hurts to ask questions of the pattern writer!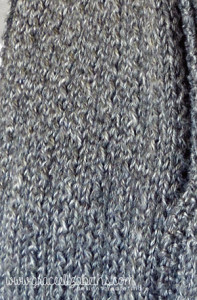 The only thing that I dislike about the finished product is how difficult it is to see the pattern with the heather gray color. It is beautiful yarn and soft, but it hides all my hard work! Oh well – John doesn't seem to mind 😉 Now if I can just block it better so it doesn't roll itself up so much! (Do you have any hints or tips to share about that issue?)
I don't know if this happens to you, but the Christmas season always seems to creep up on me! Last year I didn't even have the time to start knitting this scarf for John – I ended up just wrapping the yarn and promised John that I'd finish it for this fall.
So now as the autumn season is making an appearance, John is able to wear his scarf (if it ever cools off enough for him) and I'm passing on this pattern to you! It may not be cold enough to wear quite yet, but if you start knitting now it will be ready for winter!
What's on your needles this Fall? Will you be finishing any projects in time for Winter?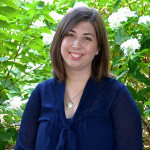 Courtney is a member of the GE Creative Team and is the monkey in the middle of this trio of sisters. Her degree might be in English and Spanish Education, but she's following God's call on her life and pursuing full time ministry with The Navigators. If she's not crafting, reading, or hanging with her hubby, you'll probably find her at a local coffee shop sipping her caramel latte and opening up the Bible with college women.