Since marrying my husband last October, John and I have learned a lot about one another. I've learned that John enjoys crafting a cup of coffee each morning, that he geeks out over board game "news" as he anticipates the release of a new expansion for his current favorite game, and that his favorite time of year is sweater season.
John has learned that I struggle to get out of bed every morning, that I value creating a welcoming atmosphere in our home, and that I unwind through needlecrafts such as knitting and crocheting.
These past 10 months, we've learned to appreciate one another's quirks, interests, and values. Now John will craft me a cup of coffee to lure me out of bed in the morning. I enjoy playing his favorite board game with him and his friends. He humors me as I decorate our apartment to make it more homey. And I have married my favorite hobby with his favorite season to create John his very own cable knit sweater!
Ever since John saw me complete my very first knit sweater, he's been hinting that he's always wanted a cable knit sweater. So as I finished up some other smaller projects in March, I deemed it an appropriate time to begin the lengthy task of knitting and piecing together a sweater just for him!
I chose the "Devon" pattern from a Berroco Booklet of Norah Gaughan patterns for men
that my mom had.  It looked simple enough – having only 2 cables running down the front of the sweater. So I bought the yarn (Lion Brand Wool-Ease Chunky Yarn – Indigo
) and began the task.
So often I am tempted to skip the gauge testing step when I start projects because I am just so eager to begin, but I am so thankful that I didn't skip it this time! My gauge for the stockinette pattern was spot on, but when I tested the gauge for the cable pattern I was sorely disappointed to find that my sample was much too large! So I ripped it out and started again with smaller needles – thankfully that was the solution I needed. It turned out perfect the second time around!
In my mind, I thought that would be the end of my gauge problems with this pattern. But after I finished knitting the back of the sweater according to the pattern, I started the front. As I finished up the ribbing around the waist, I realized further implications for my gauge problem. Noo!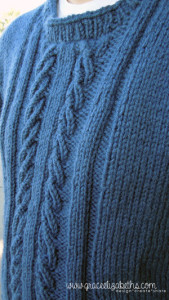 The bigger issue was that I now needed to rewrite part of the pattern to make up for the fact that I would be using a smaller needle than the directions intended. With the help of my mom we calculated the number of stitches we need to increase along the stockinette parts of the front in order to preserve the overall size that the pattern intended to create. After much math, a few crude sketches on the back of the pattern for us visual learners, we came up with a plan that would do the trick!
From then on out it was pretty smooth sailing!
I took my sweet time on this project though! I started it so early because I wanted the freedom to get it finished in time for sweater season. At the same time, with sweater season so far off in the future in my mind, there was no urgency to it and I ended up working on many other smaller projects in the meantime 🙂 My procrastination worried John so much at one point that he asked if I would ever prioritize his sweater over my other projects… so at the end of July, I found a stopping place with my other projects so that I could pick up his sweater once again – working on it nearly nonstop on our return trip from Florida. If I include the trip down to Florida this cable knit sweater has journeyed through 15 states throughout its creation! (Nebraska, Iowa, Missouri, Kentucky, Tennessee, North Carolina, South Carolina, Georgia, Florida, Indiana, Illinois, Wisconsin, Minnesota, North Dakota, and South Dakota) A very well adventured cable knit sweater if I say so myself 🙂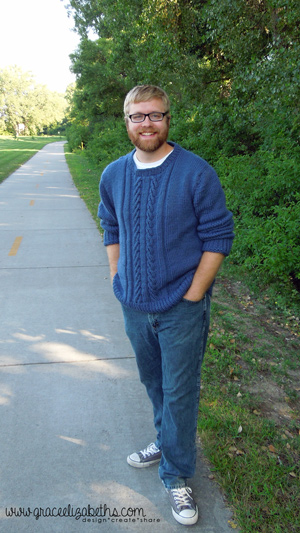 After tying up the loose ends and blocking it, I finally let John try it on – and I absolutely love the finished product! (The only flaw I've found is that I didn't know early enough that I needed to adjust the length of the sleeves to better fit John's arms – so the sleeves are a bit too long.) If it wasn't so hot out still, John would probably wear this sweater every day!
Do you travel with your knitting? What is the furthest you've traveled with a project?
**John may or may not have enjoyed modeling his sweater – which do you think? 😉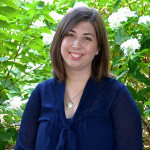 Courtney is a member of the GE Creative Team and is the monkey in the middle of this trio of sisters. Her degree might be in English and Spanish Education, but she's following God's call on her life and pursuing full time ministry with The Navigators. If she's not crafting, reading, or hanging with her hubby, you'll probably find her at a local coffee shop sipping her caramel latte and opening up the Bible with college women.