When I'm at the sewing machine, I find myself grabbing for these sewing tools over and OVER again. I've found that the right tools make the finished product more professional looking. This is what I tell my kids at school when we are kicking off our textiles unit:
The right tools really make or break the creating experience for me. Without the right tools, I find myself struggling. I get discouraged about the creating process. BLAH!
None of these tools are super fancy or expensive just PRACTICAL and easy to use. So if you are looking for a more enjoyable sewing experience and more professional results – try adding some of these practical tools into your sewing repertoire.

11 Practical Sewing Tools You Need Now!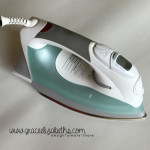 1. Iron
Next to your actual sewing machine, a good iron might be the most important sewing tool. Pressing your project after each step makes for the best possible results and a professional looking project.
2. Best Press
I love this stuff! I don't put any water into my iron but I use this stuff like crazy. It works great on tough wrinkles and smells divine.
3. Glass Pins
Sewing pins don't seem like that revolutionary of a piece of sewing equipment. But if you are going to be using them around your iron make sure that they are glass head pins. This way they won't melt all over the project you've been slaving over!
4. Pincushion
You've got to have a way to organize all those glass pins. I prefer either a magnetic one or something really cute! I've actually got a few of these things floating around – one of the ironing board, one by the sewing machine, one on the cutting table.
5. Seam Gauge
My seam gauge lives next to my iron. It assures that I have beautiful, even seam allowances, hems, and pleats. Find one with a slide and it's even more handy!
6. Shears
A good pair of shears can cost less than $20. Make sure you tag these as yours so no one else uses them for something like paper. GASP!
7. Small Scissors
These sit by my sewing machine so I can snip threads and clip curves. Find ones that are nice and pointy and sharp!
8. Seam Ripper
Everyone makes mistakes so get yourself a sharp seam ripper to make the task of undoing and redoing not so painful! My favorite seam ripper application is to open up button holes with it!
9. Tape Measure
This is a must especially if your a sewing a garment. Make sure you take measurements. I've been there a time or two where my end product – although beautifully executed – didn't fit. A good quality tape measure will be made of fiberglass.
10. Marking Pencil
I prefer using a marking pencil over transfer paper any day! Just make sure your pencil will come out of the fabric you are using – test it out first! They come in many colors so you can make visible markings no matter your fabric choice.
11. Twin Needle
A twin needle is my secret ingredient of professional looking sewing! Topstitching with a twin needle really elevates a project and brings it to the next level. If you look at many store bought garments they have many details that can be achieved with the twin needles – they even come in different widths.
What's the sewing tool you can't live without?
Alex is a member of the GE Creative Team and is the eldest daughter within the trio. Her formal training is in education where she teaches Family & Consumer Science classes. The best part of teaching is and getting to use her passion for creativity everyday. Some of her favorites include sewing clothing, quilting, and scrapbooking.