Are you just beginning to learn the art of knitting? Or, are you like me? – I love to knit and would consider myself a seasoned knitter having knit most of my life. So are knitting classes that target the "beginner" off-limits to the "seasoned", "advanced" knitter?
My mom taught me the basics as a young girl back in the mid 1970's and I mean basics.  Skills beyond a simple cast on, knit stitch, purl stitch and simple bind off were learned by any knitting instruction books or pamphlets I could get my hands on.  Anyone familiar with Workbasket Magazine?
Years have passed and I continue to refine my craft and am always looking for educational opportunities.  I decided to check out the knitting classes offered online by Craftsy.  I discovered the class titled Essential Techniques Every Knitter Should Know by Sally Melville.  Although it is a class intended for beginners, I wanted to go back to the basics and perfect my techniques.  I was not disappointed. More on that later.
Disclosure: We occasionally review products and receive compensation from the companies whose products we review. We purchased, viewed and interacted with the Craftsy class mentioned in this article. We are independently owned and the opinions expressed here are our own.
If you are not familiar with Craftsy, let me introduce you.  Craftsy is an online platform for people who want to increase their arts and crafts mastery via online video courses.  Some videos are free and some are for purchase.  What I like the most is that once you select a free video or purchase a video you have full access to it anytime, anywhere, forever!  As you listen to the video, you can type notes (for your eyes only), you can view projects made by classmates, and you can join a discussion or ask questions to troubleshoot any problems you might be experiencing in regard to the class topic.  My favorite feature is the option to bookmark a specific technique shown on the video so I can easily locate it and watch it over and over.
Instructor Sally Melville in Essential Techniques Every Knitter Should Know, is a delight to listen to and imparts quality instructions based on her 50+ years of  knitting and designing experience.  She is very thorough in her presentation.  I wish I would have had access to this type of instruction when I started knitting.  (But by now we all know that neither video technology nor the internet were in existence when I started to knit.)
A general outline of the video is as follows…
Gauge – discussion on yarn substitution, working with the swatch and re-gauging a pattern.
Cast On – 4 techniques demonstrated.
Bind Offs – several bind off techniques demonstrated and how to tighten the bind off to avoid excessive loops.
Selvages & Tails – explains what a selvage stitch is, types of selvage stitches and discusses tails.
Increases – several increase options demonstrated and how to turn the work without bobbles.
Decreases – several decrease options demonstrated
Seaming – everything you ever wanted to know about seaming.
Picking Up and Knitting – explained and demonstrated on straight and curved edges
Why take a knitting class?
1.  Knitting classes are easily accessible
Unlike back in the 1970's, knitting classes are easily accessible.  Many of us have local yarn shops (LYS) that offer classes for the beginner to the advanced knitter.  And at the minimum, you can bring in your project for advice if you are having a technique problem.  Another option for classes is initiating a search on the internet.  There are several online resources for video knitting classes and if you are looking for a specific technique many websites provide tutorials. As already mentioned, my favorite source is Craftsy but there are other quality sites out there.  I would love to jump into providing a listing for you but this topic is too big to cover in this article and will have to be addressed another time.
2.  It is possible to teach an old dog new tricks
Now I am not labeling us seasoned knitters – old dogs, but listen-up!  Each section of the mentioned Craftsy video is outstanding and so valuable in developing knitting skills for the beginner and in refining knitting skills for the advanced knitter.  Case in point: meeting gauge is probably my most difficult process in the construction of a sweater because I almost never use the yarn suggested for the pattern.  And since I really don't like to work a swatch first, 10 out of 10 times I waste time knitting a front or back of the sweater and then realize my sizing is wrong.  Ugh!  What do I do?  Yep, I rip it out and start again.  I hate to admit it but I have often ripped out 2-3 times before I break down and make a gauge swatch.  This "rip out" technique is not recommended.
Sally, in Essential Techniques Every Knitter Should Know, details the process of making a swatch for gauge purposes.  She gives solutions when gauge is not identical to the pattern such as changing needles, following a different size or other creative adjustments I was not familiar with.  This information alone is worth the cost of the class in my opinion!
3.  You become your own stylist
As you develop your skills as a knitter you are no longer limited to the clothing options found in retail stores. You become your own stylist, choosing or designing fashionable patterns to express your desired styles in the colors you prefer. For example, make a one-of-a-kind hat, scarf and mitten set that compliments your coat and personality.  Or, if you have a favorite garment silhouette, create your own unique garment out of a knitted fabric.  Oh, the possibilities are limited only by your imagination!

 Final thoughts…
I hope you are inspired to take one or more knitting classes.  Beginners and seasoned knitters benefit from additional instruction.  Whether you decide to take a class at your LYS or online, I would highly recommend taking any class you can find that is reputable.  The knowledge that expert instructors impart is wonderous and will have you creating amazing projects and developing a personal style in no time.
Tell me about your knitting class experiences.  What have you learned?
Happy Knitting!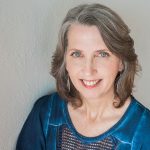 Entrepreneurship flows in Sonya's blood. Some businesses include an artistic rubber stamp manufacturing business, opening and running a bed & breakfast and having a fabric and yarn shop. As a serial entrepreneur she loves to mentor and coach small businesses. She misses farm life, loves to travel and enjoys her husband, children, their spouses and of course the grandkids.