Remembering Father's Day is a struggle for me. I don't know if it's because I'm usually traveling in the summers and not around my dad for it to come to mind, but I nearly always forget until the day of. And when it's that last minute, all I'm able to do is give my dad a call as his gift.
Well this year I'm going to remember that Father's Day is Sunday, June 21st!
Feeling inspired by my new found motivation to remember and plan something special for my Dad this year, I'm on a mission to find several excellent Dad's Day gifts.
1. Not feeling creative, but a little sentimental? These "Open When…" letters are the perfect way to show your dad that you care. Write him a note for special occasions such as "when you have a bad day," or "when you miss me," or "when you want to know how much I love you." The possibilities are endless and your dad's heart just might melt – my dad's would 😉
Apparently I'm really into printables right now because many of the following ideas include just that 🙂
2. When your dad is a businessman like mine, he is always in need of new ties! Spice up your gift with one of these nifty printables from Taryn at Design, Dining, and Diapers! 
3. Head on over to The Idea Room where Amy shares this beautiful Father's Day printable! Whether you use it to decorate your home around Father's Day or make it into a card for your dad, it is sure to be appreciated.
4. I not only like the gift idea of a candy jar associated with this next one, but the printable is so clever! I don't know if you've noticed, but mustaches are popular these days. And puns are always appropriate, which is why I love this idea from Alice at Thoughts from Alice!
Speaking of puns – I can't seem to get enough of them! Check out some of these gift ideas if you're feeling a bit punny!
5. Morena's Corner has it going on with this rocking DIY picture frame! Either roll with the pun idea or print off a favorite picture of you and your dad to fill the frame.
6. The following handmade cards are all cute and punny no matter what the age of the creator. Michelle at Crafty Morning knows how to keep kids crafting!
7. Another punny idea from over at Crafty Morning is this grilling spatula and tag! If your dad is a griller like mine, he's always in need of a quality spatula to keep those burgers flipping.
8. Then as we all know, the quickest way to a man's heart is through his stomach, so why don't you just feed him a favorite with a twist! Over at Our Best Bites they know that bacon is key as they teach you how to create your own bacon bouquet! – Who said flowers were just for women? (There's even a great printable to go along with it.)
I'm still undecided of how I'll be expressing my love for my father yet, but the creative juices are flowing and at least I still have a bit of time left.
What're your favorite Dad's Day gifts to give (or receive)?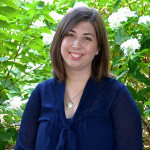 Courtney is a member of the GE Creative Team and is the monkey in the middle of this trio of sisters. Her degree might be in English and Spanish Education, but she's following God's call on her life and pursuing full time ministry with The Navigators. If she's not crafting, reading, or hanging with her hubby, you'll probably find her at a local coffee shop sipping her caramel latte and opening up the Bible with college women.