As promised, today I'm sharing with you my first crochet pattern for FREE!
This "Fun in the Sun Hat" is a quick project and suitable even for beginners. I probably wouldn't recommend it as a first project, but once you have the hang of the double crochet stitch there's not much more to this pattern besides counting and following directions!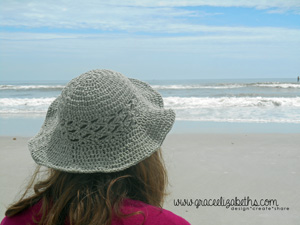 One of my favorite things about this hat is the yarn I used. Up to this point of my needlecraft life I haven't had much chance to splurge on fancy yarn or geek out at quaint yarn shops. However, I just happened to be visiting some family in Omaha, NE right after deciding on this project. So with the company of my aunt, cousins, and mother, we ventured into the Wooly Mammoth Yarn Shop to explore the many types of yarn they had.
I was in need of a cotton/linen blend for this hat project and was led to this beautiful Sagebrush – Aruba by Tahki Yarn. I loved the color and I'd never used a cotton/linen blend before, so I took the advice of the shopkeeper and splurged! I absolutely love the way it turned out!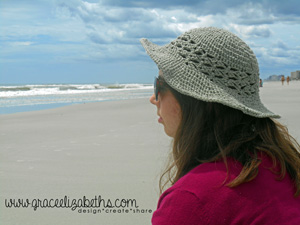 Are you ready to try this pattern yourself? Download it for yourself below!
I am human, so there's bound to be a typo or two (or perhaps a direction that needs further explanation), so please contact me at info@graceelizabeths.com if you have any questions! I will do my very best to correct my errors and clear up any confusion.
*One note that might save you some trouble is to always, always, always check your gauge! If you take the time to check your gauge, you will save yourself from much pain and the tearing out of your actual project.*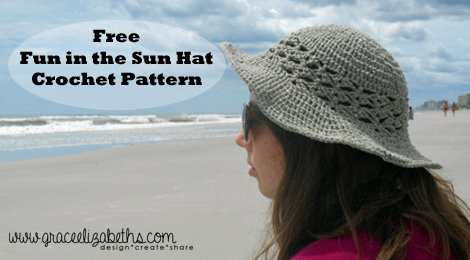 To receive your FREE Fun in the Sun Hat Pattern, click DOWNLOAD NOW below.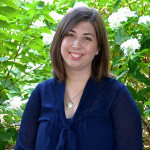 Courtney is a member of the GE Creative Team and is the monkey in the middle of this trio of sisters. Her degree might be in English and Spanish Education, but she's following God's call on her life and pursuing full time ministry with The Navigators. If she's not crafting, reading, or hanging with her hubby, you'll probably find her at a local coffee shop sipping her caramel latte and opening up the Bible with college women.