I don't know about you, but sometimes when I'm in the middle of a large knitting project, I get a little bored. I pick up my needles a little less often and get busy doing other things instead.
I'm in need of some variety in my life!
Just recently I've begun working on small yarn stash buster projects to take a break from the monotony of knitting a sweater or crocheting a blanket. It's been fun to see these projects take form so quickly and to see my yarn stash deplete!
I'm not sure where this coaster pattern originated, but it was given to me by the knitting group at my church (called the Coveknitters – hehe). Yes, I am 23 years old and part of a knitting group – no, I'm not the youngest one there because one mother brings her elementary-age girls 🙂 It's been so much fun to fellowship with these ladies from all different stages of life and share in creating precious handcrafted items.
Receiving the pattern couldn't have come at a better time. My husband and I entertain college students quite frequently and had become concerned by the lack of coasters in our apartment (coasters somehow didn't make it to our wedding registry – who knew we would need them so bad?). I was eager to whip up these coasters and save our furniture from anymore "sweat stains" from glasses.

Heart Coaster
(Worsted Weight Cotton, #8 needles)
Cast on 26 stitches
Rows 1-10: slip 1, (k5, ssk, k4, kfb) twice, k1
Row 11: slip 1, ssk, k3, ssk, k4, kfb, k5, k2tog, k2, k2tog, kfb, k1
Row 12: slip 1, k4, ssk, k4, kfb, k5, k2tog, k3, kfb, k1
Row 13: slip 1, ssk, k2, ssk, k4, kfb, k5, k2tog, k1, k2tog, kfb, k1
Row 14: slip 1, k3, ssk, k4, kfb, k5, k2tog, k2, kfb, k1
Row 15: slip 1, ssk, k1, k2tog, k4, kfb, k5, k2tog twice, kfb, k1
Row 16: slip 1, ssk twice, k4, kfb, k5, k2tog, k3
Row 17: ssk twice, k4, kfb, k5, k2tog twice
Row 18: ssk, k4, kfb, k5, k2tog, k1
Row 19: ssk, k4, (knit in front, yo and knit in back of same stitch), k3, k2tog twice
Bind off knit-wise. Fasten off. Thread ending yarn through last stitch on second garter ridge above, as shown to create a smooth edged heart. Weave in ends.
Enjoy this simple and quick coaster pattern!
~Courtney Rose~
What's your latest stash buster project?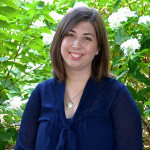 Courtney is a member of the GE Creative Team and is the monkey in the middle of this trio of sisters. Her degree might be in English and Spanish Education, but she's following God's call on her life and pursuing full time ministry with The Navigators. If she's not crafting, reading, or hanging with her hubby, you'll probably find her at a local coffee shop sipping her caramel latte and opening up the Bible with college women.