Throwback Thursday highlights a post from years past that we think you might enjoy! This post originally made its debut on Grace Elizabeth's on March 25, 2013.
Have you begun to create your Easter dinner menu for 2015?  I honestly haven't put much thought into it yet but here are some ideas from the past.  I think I will wait on baking the lamb cake until we have some little ones toddling around grandma's house.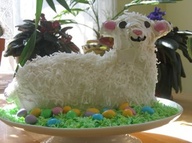 On another note, I want to share some thoughts on the topic – Easter…
Easter!  Christ has Risen – He has Risen Indeed!
Easter dinner menus come and go but the fact that Christ has risen remains true.  In my Bible reading plan this year I recently read the latter part of Matthew where Jesus' crucifixion was described, the story of His burial was told and an angel's report to the women who came to His grave after the Sabbath stated, "He is not here, for He has risen, just as He said."
What does that mean you might ask.  Frankly it is a matter of eternal life in heaven or hell. The Bible tells us in Colossians 1:20…
Once you were alienated from God and were enemies in your minds because of your evil behavior.  But now he has reconciled you by Christ's physical body through death to present you holy in his sight, without blemish and free from accusation — if you continue in your faith, established and firm, and do not move from the hope held out in the gospel.
John 3:15-16 states…
…everyone who believes (in Jesus) may have eternal life in him.  For God so loved the world that he gave his one and only Son, that whoever believes in him shall not perish but have eternal life.  For God did not send his Son into the world to condemn the world, but to save the world through him.  Whoever believes in him is not condemned, but whoever does not believe stands condemned already because they have not believed in the name of God's one and only Son.  This is the verdict:  Light has come into the world, but people loved darkness instead of light because their deeds were evil.  Everyone who does evil hates the light, and will not come into the light for fear that their deeds will be exposed.  But whoever lives by the truth comes into the light, so that it may be seen plainly that what they have done has been done in the sight of God.
Now that is GOOD NEWS!
Have a Blessed Easter and if you have any questions about Jesus' death on the cross please comment below.
Sonya Kay