Do you have questions about God's grace?  What is "sovereign joy?" What does St. Augustine have to offer us about these topics?
I have always had an interest in church history and I came across this message by John Piper, well known author and former pastor at Bethlehem Baptist Church in Minneapolis, MN.  Piper stated in his message to the pastors attending the 1889 Bethlehem Conference for Pastors, "the influence of Augustine in the Western World is simply staggering." If you are unfamiliar with Augustine (born in 354), he served the church for almost 40 years, had been the bishop of Hippo and was known throughout the Christian world as a God-besotted, Biblical, articulate, persuasive shepherd of his flock and defender of the faith against the great threats of his day, mainly Manichaeism, Donatism, and Pelagianism.
This is a fascinating presentation by Piper. Below are a few quotes I pulled from the manuscript.  Read the full manuscript or listen to Piper's message by clicking here.  I would encourage you to do both because Piper does not follow the manuscript word for word and is a great speaker.
We need to rediscover Augustine's peculiar slant – a very Biblical slant – on grace as the free gift of sovereign joy in God that frees us from the bondage of sin…

Augustine labored with all his spiritual and poetic and intellectual might to help people see and feel the all-satisfying supremacy of God over all things…

Few people in the history of the church have surpassed Augustine in portraying the greatness and beauty and desirability of God. He was utterly persuaded by Scripture and experience "that he is happy who possesses God." "You made us for yourself, and our hearts find no peace till they rest in you." He would labor with all his might to make this God of sovereign grace and sovereign joy known and loved in the world…
Enjoy!
Sonya Kay
Related Articles: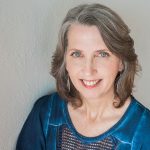 Entrepreneurship flows in Sonya's blood. Some businesses include an artistic rubber stamp manufacturing business, opening and running a bed & breakfast and having a fabric and yarn shop. As a serial entrepreneur she loves to mentor and coach small businesses. She misses farm life, loves to travel and enjoys her husband, children, their spouses and of course the grandkids.