How many of you work on multiple projects simultaneously?  Sometimes that is called procrastination but in this case I worked on two afghans at the same time out of necessity (to keep me sane).  Afghans take time and doing the same pattern for hours can get a bit boring, so when I got tired of one I switched to the other.  The best thing is when I am done I have two projects completed!
This afghan pattern, "Woodland Circle," is a free crochet pattern from Lion Brand and is made with their popular yarn Homespun.
For this afghan, I simply took a crochet stitch pattern and adapted it to create the afghan.  I call it "Houndstooth Afghan."  The use of contrasting colors makes it very striking.  You can purchase this easy pattern from from Grace Elizabeth's online shop. You get a downloadable 3 page pattern with detailed instructions, stitch guide and pictures of the completed afghan.
Click here to buy Houndstooth Afghan Pattern
Staying Warm,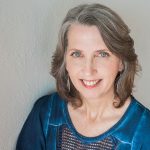 Entrepreneurship flows in Sonya's blood. Some businesses include an artistic rubber stamp manufacturing business, opening and running a bed & breakfast and having a fabric and yarn shop. As a serial entrepreneur she loves to mentor and coach small businesses. She misses farm life, loves to travel and enjoys her husband, children, their spouses and of course the grandkids.