As expected, I learned quite a bit over spring break in Colorado Springs. However, the nature of many of the things I learned may have been unexpected.
During this past week I learned that Denver during rush hour is a danger zone, that 10+ car caravans up a mountain are not as fun as they sound, that altitude sickness is a real thing, that head-colds at 9,000+ feet are much less enjoyable than at lower altitudes, that God is using Eagle Lake Camp in crazy amazing ways, that Navigators love to be lumberjacks even if it means getting ash in places they did not know they had places, that floating circles can become cobble stones with a little extra paint, that my hand can be just as useful of a canvas to mix paint as a palette, that snow on a mountain sometimes resembles dip'n dots, that mountain air steals your breath away – literally and figuratively, that there is such a thing as downshifting to help you drive down a gravel mountain road without burning out your brakes, that the "low tire" light tells the truth, that the tip of a razor blade can and will give you a flat tire, that I'm so very grateful that I did not have to stress over the tire situation because my campus director took care of it, that dry skin bleeds, that buttering your hands with lotion works wonders, that deepened relationships between UNK Navs is pretty sweet – Whoop-oop!, that the name Mama Courtney continues to stick, that the relationships built between students of all three campuses can make for an awesome atmosphere, and most importantly that God turns ashes to beauty!
In all seriousness, God has taught me more about his character and his vision for his people this last week. One of the lessons that remains at the forefront of my mind is that God's promises are always fulfilled.
Isaiah 61:1-3 The Spirit of the Sovereign Lord is on me, because the Lord has anointed me to proclaim good news to the poor. He has sent me to bind up the brokenhearted, to proclaim freedom for the captives and release from darkness for the prisoners, to proclaim the year of the Lord's favor and the day of vengeance of our God, to comfort all who mourn, and provide for those who grieve in Zion—to bestow on them a crown of beauty instead of ashes, the oil of joy instead of mourning, and a garment of praise instead of a spirit of despair. They will be called oaks of righteousness, a planting of the Lord for the display of his splendor.
We saw throughout the week how God has already been restoring Eagle Lake Camp and how he used us this week in the restoration process as well. Through the speakers we learned how God transforms and shapes us through his Spirit, his Word and Hardships (Doug and Pam Nuenke), how our position and identity in Christ influences the way we live everyday – we are becoming who he has already created us to be = 100% holy and righteous in Christ (Mike Jordahl), how dependent responsibility makes our work for God more effective (Jerry Bridges), and how getting into the scriptures allows us to begin thinking biblically to see those around us from God's perspective (Mutua Mahiaini).
I have taken away the need I have to preach the gospel to myself and others daily in order to remind myself of my desperate need for a Savior and how God has shown compassion for myself and other sinners through the death of his Son. I need to remember that from the moment I accepted Christ as my Lord and Savior, I became 100% holy and righteous in his sight. God will transform me here on earth through my experience growing into my position – becoming who I was already created to be. Until the day that my experience matches my position when my life on earth ends, I need to say no to sin, to grow through hardships and to turn my heart to God while trusting in his purposes for all that comes my way. I know that I will fail every day of my walk with God because of my sinful nature, but I have confidence in Christ's blood covering and cleansing me. It is through my sins that Christ brings me to my knees before him and shows me how desperately I need him every moment of my life. Apart from Him I can do nothing.
~Courtney Rose~
How has God shown you how He has turned ashes to beauty?
Related Articles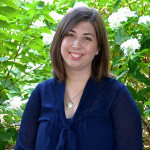 Courtney is a member of the GE Creative Team and is the monkey in the middle of this trio of sisters. Her degree might be in English and Spanish Education, but she's following God's call on her life and pursuing full time ministry with The Navigators. If she's not crafting, reading, or hanging with her hubby, you'll probably find her at a local coffee shop sipping her caramel latte and opening up the Bible with college women.