As promised, here is another idea for Valentine's Day cards from this Sorority Girl! This one is less of a tutorial and more of an idea starter. The inspiration began when I found an image of a card with red flowers and the following Bible verses printed on them. I really loved the verses they chose, so I wanted to create a version of my own!
I used my mom's cricut expression to cut some different shapes out of Valentine's Day themed scrapbook paper.
Then I glued the shapes to the cards and wrote Bible verses on them with sharpie – again – I wish I had calligraphy skills, but alas, I do not.
You wouldn't have to own a fancy paper cutting machine to draw inspiration from these cards. You could use stencils or free hand these shapes.
Before realizing that I had the opportunity to use the cricut, I was planning on just making plain straight borders out of the scrapbook paper and maybe cutting out a heart or two. These don't have to be fussy because I feel like the scripture is the focal point and main reason to make these cards.
I love making these cards with a purpose to share them and my love with some of the dearest people in my life. Four of these beauties will be mailed to four equally beautiful ladies who are united under the name VERITAS. I wish I could hand deliver them, but the care I took in preparing these will demonstrate my love too.
Happy Valentine's Crafting!
~Courtney Rose~
Looking for more ideas? Take a look at my other Valentine's Day Cards idea! Also, stay posted for a third and final Sorority Girl Valentine's craft!
How would you tweak this card idea and make it your own? Would you use different material? Are there other verses you would have used? I'd love to know, so share below!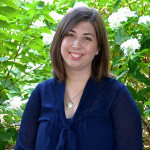 Courtney is a member of the GE Creative Team and is the monkey in the middle of this trio of sisters. Her degree might be in English and Spanish Education, but she's following God's call on her life and pursuing full time ministry with The Navigators. If she's not crafting, reading, or hanging with her hubby, you'll probably find her at a local coffee shop sipping her caramel latte and opening up the Bible with college women.