Now that 2012 is over, I am reflecting on how this past year has been so filled with God's blessings. It was this time last year that I first made the decision to connect with the Navigators, an inter-denominational campus ministry.  I had not been very involved in any ministry since coming to college, and over last Christmas break, I came to the realization that I craved that fellowship.
Since that time, God has taken me on quite the journey and it all began when He changed my plans for the summer. You see, I had been planning on studying abroad in Spain last summer for my major. I had actually been trying to travel to a Spanish-speaking country since my senior year of high school, but my plans had always fallen through. So I had it in my mind that I HAD to study in Spain and had applied for the program in January.  In February I received word that I had not been accepted into that program, and I was devastated. However, I quickly understood that Spain was not God's plan, and I turned to Him for guidance in what I should do next. I wanted to know how He wanted to use me that summer.
His answer was quick in coming because the Navigators had been promoting their Summer Training Program in Jacksonville, FL (JAX) at their weekly meetings. My friend had just applied for the program, and when I told her that my summer plans had changed, she encouraged me to apply for JAX too.  I gave it some prayerful thought before I applied and continued to pray for God's will to be done as I waited to hear back.
As many of you know, God answered my prayers and sent me to JAX last summer for an incredible opportunity for spiritual growth.  He challenged me in many ways and gave me a strong foundation and passion for His work for when I returned to campus this fall.  Since then I have been blessed by the opportunity to be discipled by Machelle Clark, to disciple Jaci, one of my sorority sisters, and to co-lead a Bible study with Caitlin, my friend who went to JAX with me. This last semester has taught me a lot about relating with others and sharing Christ's love through my daily walk.
Throughout this semester, God has once again changed my plans to match His. I had begun planning a trip this summer to study abroad in Costa Rica, but right about the time a deposit was due for the trip, I realized that God was calling me to consider a missions trip instead. I still desired to go to a Spanish-speaking country to experience the language immersion, so  I asked my campus director with the Navigators for help in finding a missions trip.
Last week I officially heard that a Navigators' short-term missions trip to Argentina is planned for May 31-July 24, 2013.  This team will be working with an existing Navigators ministry building relationships and sharing Christ's love with the community, and I submitted my completed application on Christmas Eve. Right now I am praying that God would prepare a place for me on that team or that He would reveal how else He wants me to serve Him this summer. One thing I know for sure, God has a plan for me; I just have to wait for Him to reveal it to me and be eager to follow and obey that will.
~Courtney Rose~
Jeremiah 29:11
For I know the plans I have for you, declares the Lord, plans for welfare and not for evil, to give you a future and a hope.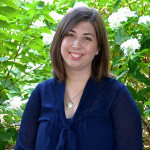 Courtney is a member of the GE Creative Team and is the monkey in the middle of this trio of sisters. Her degree might be in English and Spanish Education, but she's following God's call on her life and pursuing full time ministry with The Navigators. If she's not crafting, reading, or hanging with her hubby, you'll probably find her at a local coffee shop sipping her caramel latte and opening up the Bible with college women.