After spending the last 3.5 years studying my subject areas of English and Spanish, I'm finally ready to step into a classroom to work with a cooperating teacher for 80+ hours of field experience before student teaching in the fall.  This will be the first opportunity I have had to interact with students in a real classroom environment since my classroom observations freshman year of college.  Somehow that just doesn't feel right. However, I am praising God to have this opportunity to gain experience and learn from a seasoned teacher.
It is official: I will be working with Mrs. Slaughter in her Spanish 1 & 2 classes at Kearney Catholic this semester.
I can't wait to begin learning from her starting a week from today! It's going to be a crazy semester of growth for me in both my Spanish and teaching skills.
~Courtney Rose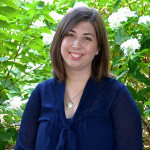 Courtney is a member of the GE Creative Team and is the monkey in the middle of this trio of sisters. Her degree might be in English and Spanish Education, but she's following God's call on her life and pursuing full time ministry with The Navigators. If she's not crafting, reading, or hanging with her hubby, you'll probably find her at a local coffee shop sipping her caramel latte and opening up the Bible with college women.