Oh dear, it has been awhile.  I have decided that it is very difficult to write these if I am uninspired! Plus, these last two weeks have been crazy busy with school.  Today, I have finally been inspired to write again.  Maybe it has something to do with the start of Spring Break, or maybe I just finally h
ad time.  Whatever the case, as I was making supper, I decided it would make a great blog topic.
I don't usually like to spend a lot of time on supper, but tonight I had time and I chose to make a pizza.  I really didn't have any of the typical pizza toppings, so I kind of made things up as I went! It sort of turned into a Spinach and Chicken Alfredo Pizza.  First, I started with some Jiffy pizza dough mix, following the boxes directions. Then I
chopped about 1 ½ to 2 cups of fresh spinach leaves.  (I didn't measure anything so this is purely guess work).  Next, I shredded maybe ½ cup of colby jack cheese. This was the only cheese I had on hand, but you may want to select a different kind.  Then I cut two chicken breasts into bite size pieces and cooked them in a pan with a little Italian seasoning.  I used an alfredo sauce from a jar instead of a tomato sauce.  Then I just layered everything onto the crust and voila! A deliciously yummy pizza that only took 30 minutes to prepare!
~Courtney Rose~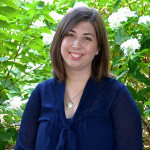 Courtney is a member of the GE Creative Team and is the monkey in the middle of this trio of sisters. Her degree might be in English and Spanish Education, but she's following God's call on her life and pursuing full time ministry with The Navigators. If she's not crafting, reading, or hanging with her hubby, you'll probably find her at a local coffee shop sipping her caramel latte and opening up the Bible with college women.