Remember approaching your mom as a child saying, "I'm bored." And now as an adult you still hear yourself saying it, "I'm bored, I want to do something productive, imaginative, something out of the ordinary. I want to make something but I don't know what."  Today we are going to explore some possibilities to get those inspiration juices flowing.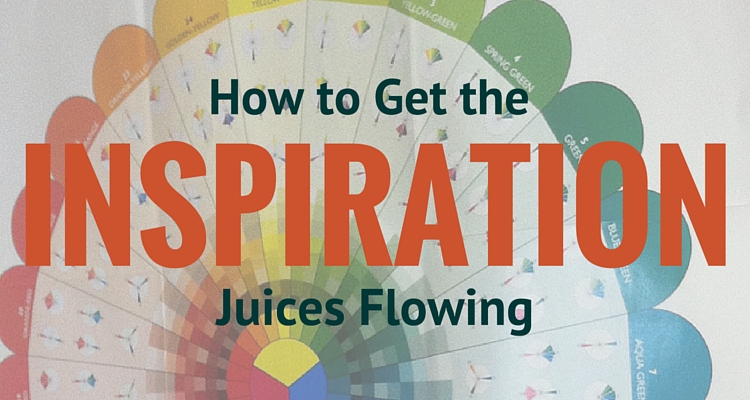 You are not alone when it comes to being stuck in an unimaginative slump.  We all struggle with routine and run-of-the-mill processes or projects in our lives.  And yet, there is almost nothing more exciting than starting a new creative project whether your passion is knitting, crocheting, sewing, quilting, or some other hands-on craft. But how do we get from the mundane to the extraordinary?
5 Sure Ways to Get the Inspiration Juices Flowing
Participate in a Local Group. Search for a group that meets in your area which has similar passions as you.  If you like to knit or crochet, contact your local yarn shop and see if they have a weekly or monthly group to share ideas, techniques and fun.
Cyber Group and Internet Browsing. The internet is a great place to gain inspiration. Actually, everyone needs to become a part of a cyber group. No, you won't meet for coffee and sit side-by-side sharing new quilting technique ideas. But, there are so many options. Pictures can be shared on Instagram, Facebook, Pinterest, Flicker and many more platforms. You can create or join a Facebook group or Google+ community.  These groups can provide amazing inspiration with pictures and ongoing discussions.  Be warned, this is addictive so put a limit to browsing and commit to creating.
Secure the Services of a Mentor or Coach.  Professional "coaches" have become common and popular over the past few years. They teach, instruct and inspire their clients to succeed in specific areas of life or business. You don't have the resources to hire a coach? Paying for a coach is a great investment; however, if you can't afford to hire a coach, search for industry influencers locally and nationally and glean from their blogs, emails, social media and newsfeeds.
Personal Friend. Another suggestion would be to seek out someone locally that has peaked your interest because of their influence, knowledge and knack for encouraging others.  I have had three such friends over the years. Each have shared my interests and loved to chat over coffee or tea. I don't know what I loved most, inspirational show-n-tell or the inspirational heart-to-heart discussions. Unfortunately I no longer live near any of these sweet ladies; however, they all continue to inspire me via the internet and occasional visits.
Pay it Forward. It's time to turn the table. Since you now know four ways to be inspired by others, it is time for you to inspire someone. Be intentional and invite others over for coffee and chat about craft and life.
Remember show-n-tell at school? Remember your excitement to share with your classmates something special to you. That is exactly how I feel right now! I am excited to show you pictures from my last visit with my dear friend Linda.  Linda has an incredible ability to pull together colorful, detailed quilts. I love visiting her home! It's not just the creative inspiration she gives me but also the heart-felt conversations we have while sipping coffee and nibbling on biscotti. If you like quilting these pictures will surely inspire you.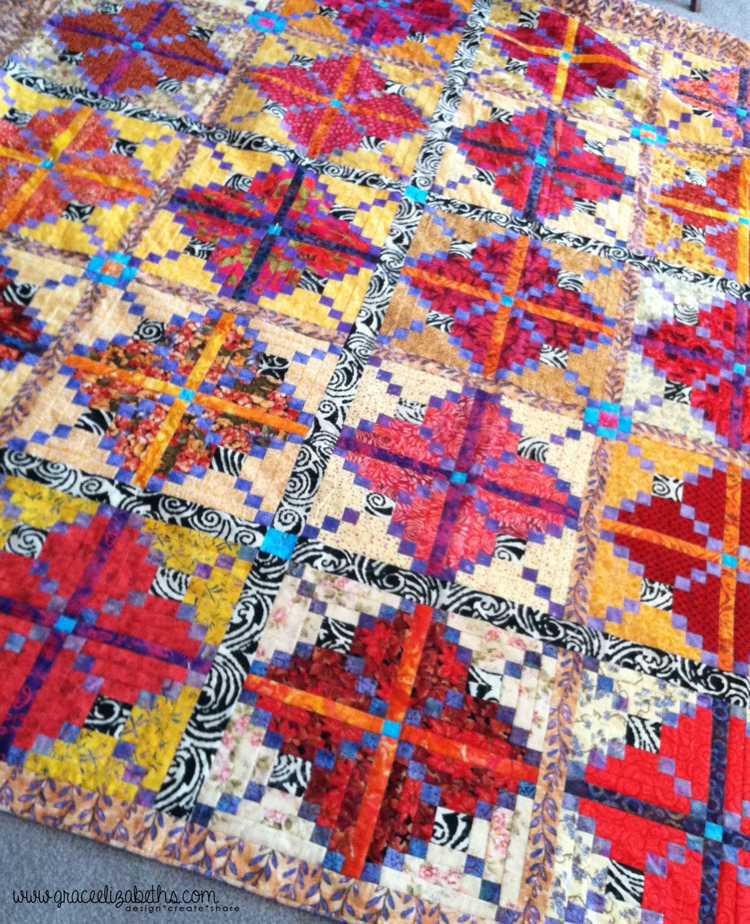 Log Cabin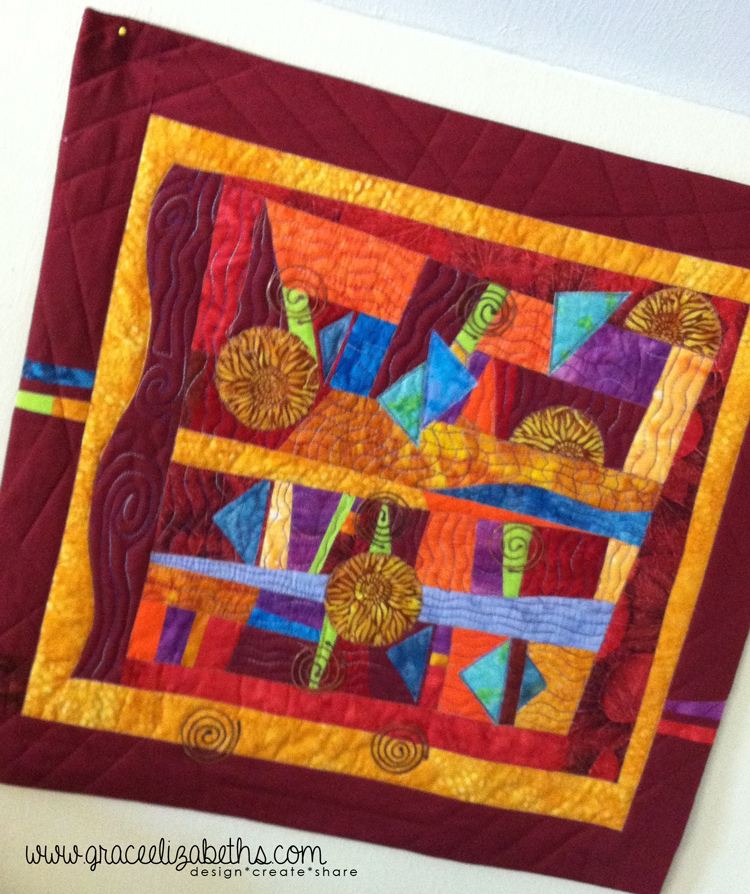 Modern Square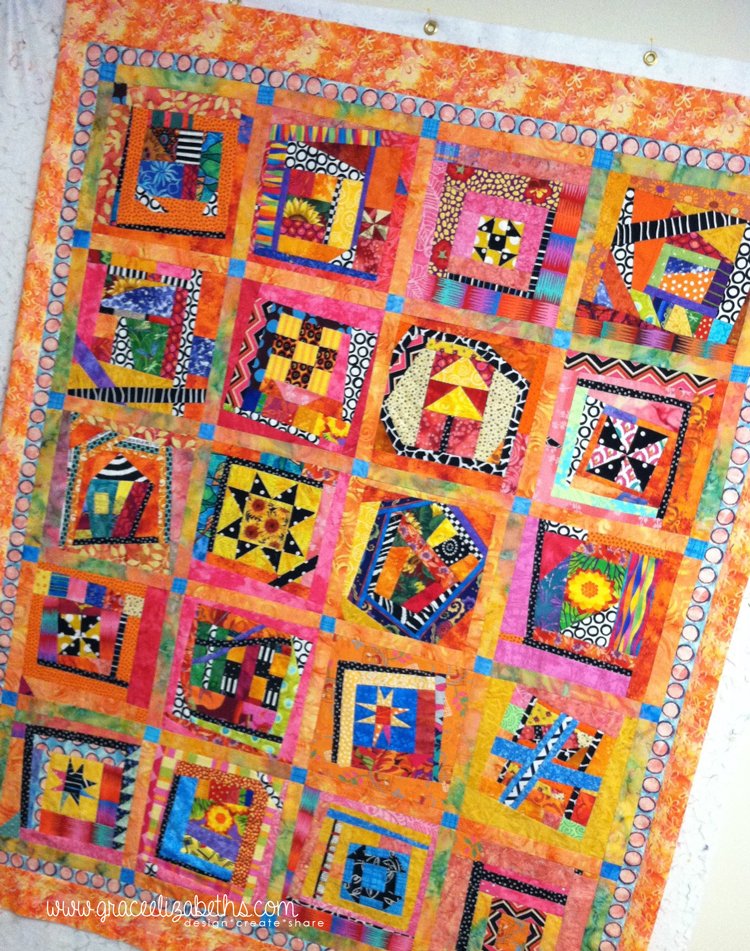 Crazy Squares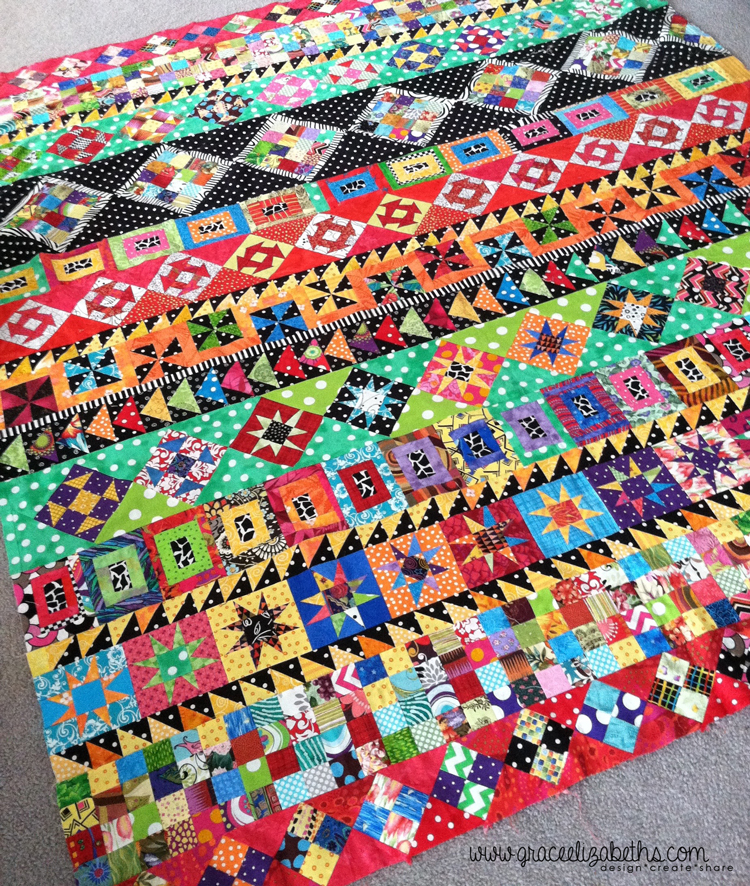 Horizontal Pieced Stripe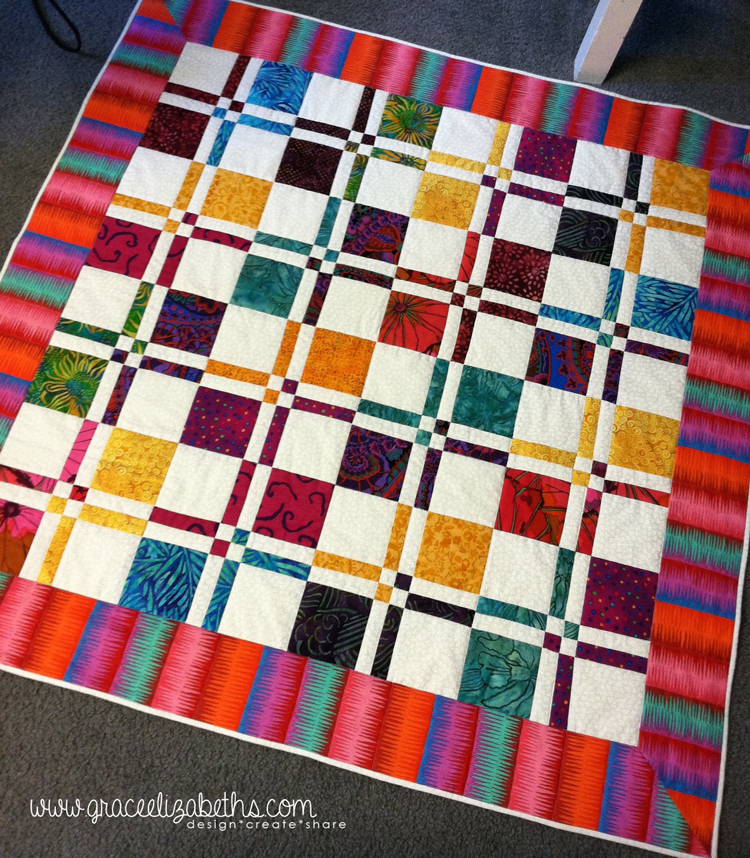 Disappearing Nine-Patch
BONUS Inspiration Generator:  Inspiration is in abundance all around us. I have the privilege of looking out my dinning room window and seeing trees change through the seasons. There are brick homes and wood siding homes in my neighborhood. In the summer, the grass is green and the flowers bloom profusely. Today it snowed, so everything is covered with white fluff.  The patterns, textures and colors are spectacular everywhere anytime of the year, inside and outside.
When you need inspiration, all you have to do is look around and cultivate relationships with people who inspire you. Inspirational people ignite a spark that encourages you to see the beauty that is right in front of you.
What or who triggers your inspiration?
Let Grace Elizabeth's encourage you and keep the inspiration juices flowing right to your inbox! Click here to subscribe.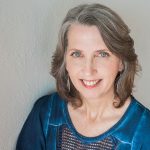 Entrepreneurship flows in Sonya's blood. Some businesses include an artistic rubber stamp manufacturing business, opening and running a bed & breakfast and having a fabric and yarn shop. As a serial entrepreneur she loves to mentor and coach small businesses. She misses farm life, loves to travel and enjoys her husband, children, their spouses and of course the grandkids.