A year ago today we said "I do!"
I remember waking up that morning, not sure that I could believe the day had come – we'd been waiting for what seemed like forever!
I remember the giggly giddiness welling up in me as I walked up to you for the first time that day.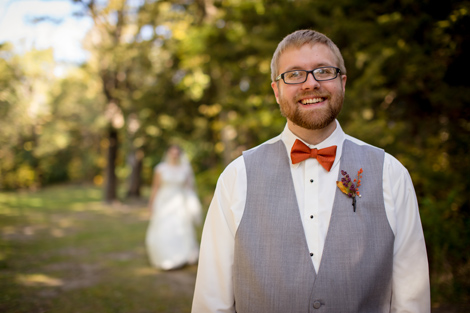 I couldn't wait to see you and share this moment with you – our first moment together on our wedding day – the beginning of the day that we became husband and wife.
I remember not knowing what to say or do as our eyes met at that moment – except smile, giggle and hug you.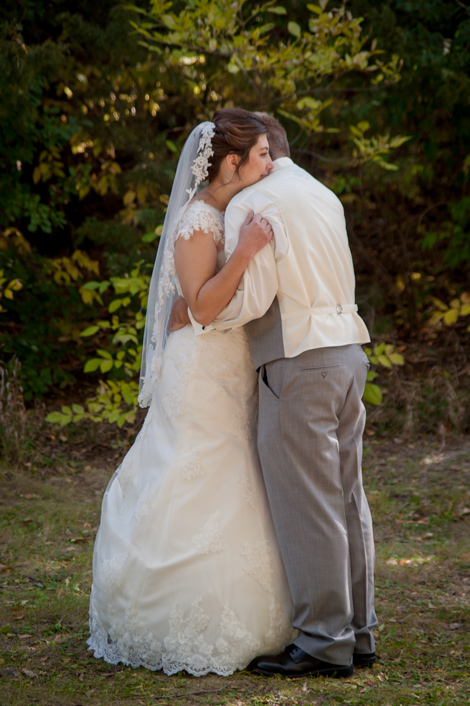 But your smile – it spoke a thousand and one words of love and excitement.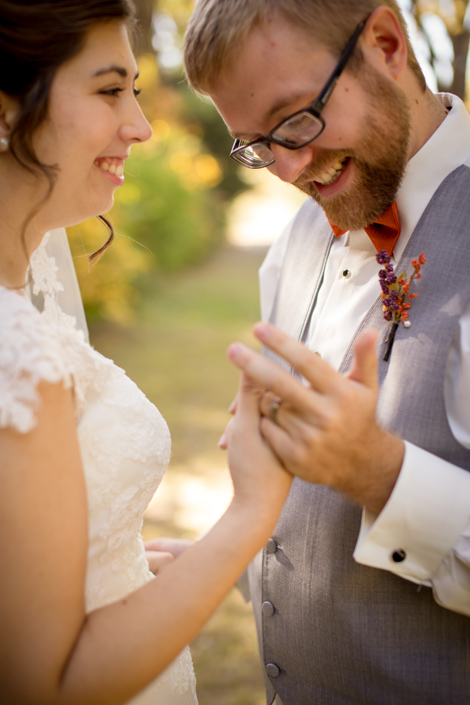 I remember the rest of the morning breezing by. The smiles on both of our faces nearly frozen in place by the many pictures we took with friends and family – and yet we couldn't stop smiling if we tried!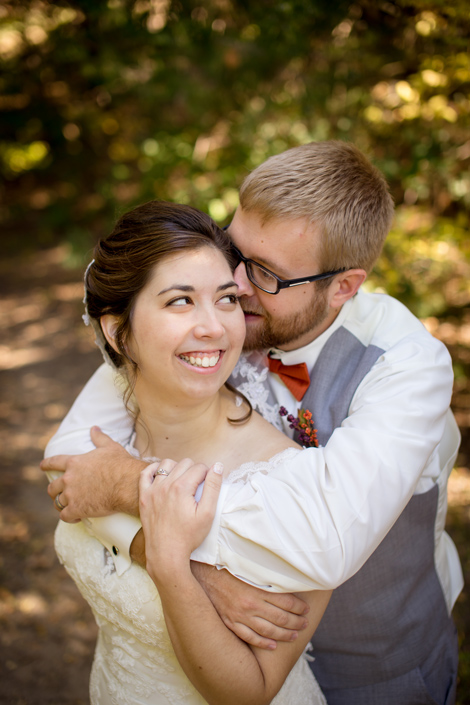 I remember waiting for what seemed like forever for the service to start – first because I was just that excited to get up front and say I do… but then because our ring bearer slowed the show down by needing the restroom at the last minute 😉 Still one of funniest moments of the day!
When I finally got up there with you and my dad gave me to you, it was just you and me! Sure the church was full, our friends were beside us, and Pastor Dave was speaking, but only you and I existed from my perspective.
Then Pastor Dave shared from Psalm 130:
1 Out of the depths I cry to you, O Lord!
2     O Lord, hear my voice!
Let your ears be attentive
to the voice of my pleas for mercy!
3 If you, O Lord, should mark iniquities,
O Lord, who could stand?
4 But with you there is forgiveness,
that you may be feared.

5 I wait for the Lord, my soul waits,
and in his word I hope;
6 my soul waits for the Lord
more than watchmen for the morning,
more than watchmen for the morning.
7 O Israel, hope in the Lord!
For with the Lord there is steadfast love,
and with him is plentiful redemption.
8 And he will redeem Israel
from all his iniquities.
And our eyes were turned upward!
Sure we had waited months before dating, and we waited months before engagement, we waited months to see each other as we spent our summers on opposite sides of the world, and we waited months to say I do. But nothing compares to the waiting we are still doing – waiting for the Lord! Waiting for the Lord to redeem the whole world through Christ. How sweet to remember the truth of our expectant hope for Christ's return on our wedding day! There is an even better wedding that we are preparing for – that of Christ and the church. We are blessed to have our wedding point forward to that future wedding! How incredible that day will be!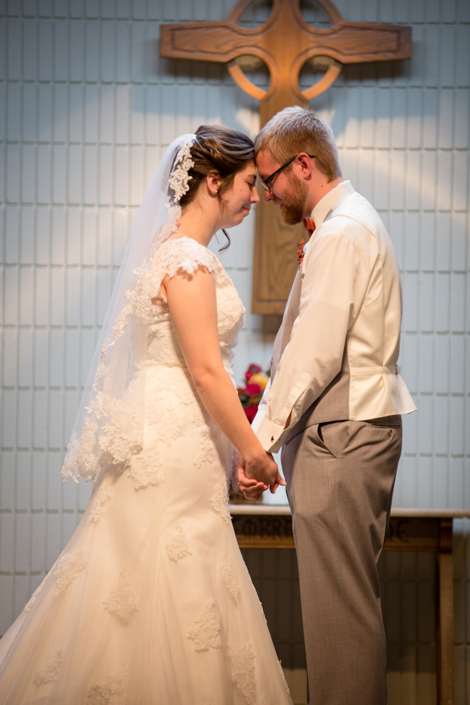 I also remember standing with you hand in hand as you whispered sweet prayers over our marriage. Prayers that God is answering as he refines us through our marriage and draws us closer to Him in Christlikeness. May we never forget those prayers or the promises we made each other before God.
Just as our covenant with one another before God points to Christ's with the church, so also our celebratory reception points to the wedding feast of the Lamb – only a shadow, of course. But oh what fun it was to share that time with our family and friends!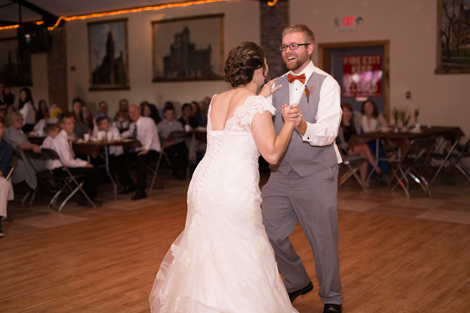 I still can't believe that we polkaed for part of our first dance! But it really epitomized the joy we felt and shared!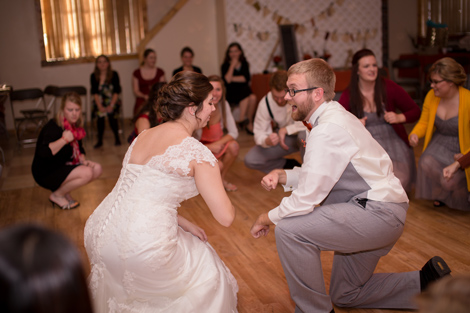 And who can forget the finale of the reception – the Interlude dance – surrounded by some of our most favorite people!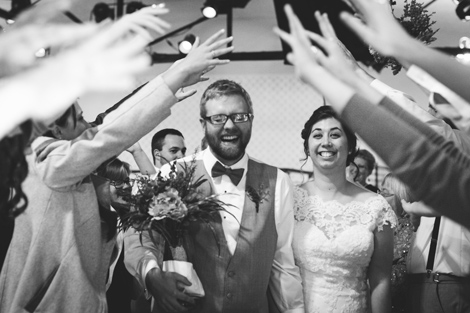 And perhaps the most epic moment… our grand exit to the "Award Ceremony Theme" from Star Wars! You're welcome 😉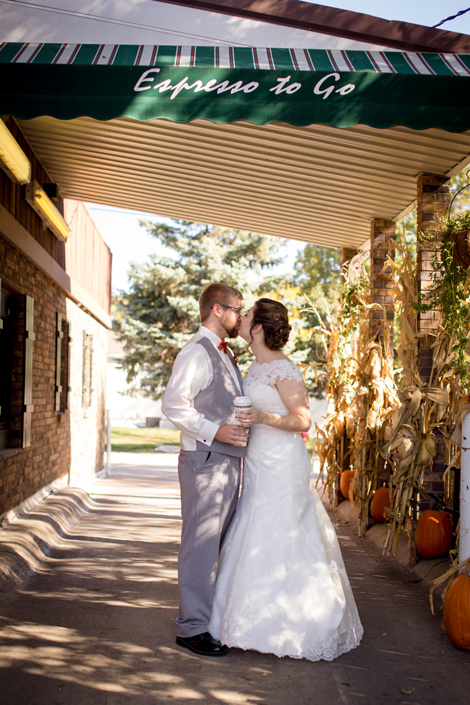 Even in the most difficult times this past year, I praise God that I am married to you. Thank you for leading out of humility and repentance, for loving me when I'm most unloveable, for drawing me out when I most want to hide, for continually pursuing me the way Christ pursues us.
May God continue to refine us through our union, and may our marriage point us and others toward Christ – the true bridegroom.
I look forward to what this next year full of unknowns holds for us because we are in it together and are trusting God for our future! (You may need to keep reminding me of that as fear creeps in and decisions are difficult to make.)
May we remember:
If God is for us, who can be against us? He who did not spare his own Son but gave him up for us all, how will he not also with him graciously give us all things? – Romans 8:31b-32
Our God is good and He is faithful to do all He has said He will do! May He continue to teach us that truth this next year.
I love you, John!
XOXO
*Special shout out to Emily Davidson Photography. Thank you for capturing our day in pictures! God bless you in your endeavors!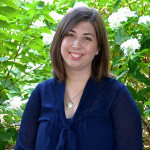 Courtney is a member of the GE Creative Team and is the monkey in the middle of this trio of sisters. Her degree might be in English and Spanish Education, but she's following God's call on her life and pursuing full time ministry with The Navigators. If she's not crafting, reading, or hanging with her hubby, you'll probably find her at a local coffee shop sipping her caramel latte and opening up the Bible with college women.