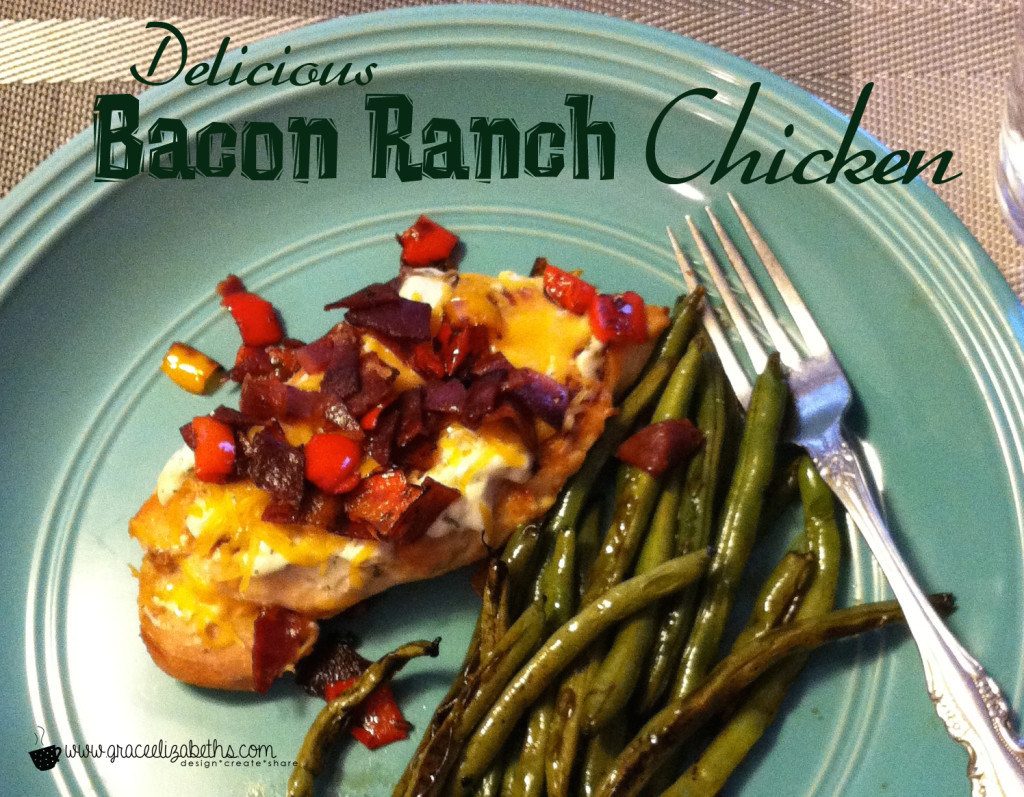 Have you ever had a craving for something yummy for dinner but not sure what to cook?  I remembered pinning a chicken recipe the day before which I was drooling over on Pinterest and grabbed my computer. Unfortunately I was extremely disappointed when I clicked on it and it lead to a dead end.  The link was broken. Don't you just hate that!
Since Alex was desiring something yummy also, she did a little searching online to get some ideas flowing.  I went to the refrigerator and began pulling out ingredients.  I had chicken in the freezer and quickly got it out to thaw.  I found turkey bacon, 3 mini sweet peppers, cheese and leftover ranch vegetable dip, yum.  I also had fresh green beans in the crisper – more on that later.  With ingredients found – the cooking began and here is what we made.
Delicious Bacon Ranch Chicken
Yields: 2 Servings
1 sweet red or orange pepper
2 pieces turkey bacon
2 tablespoons coconut oil
2 Chicken Breasts
2-3 tablespoons ranch vegetable dip
4 tablespoons shredded extra sharp cheddar cheese
Prepare bacon by cutting into pieces. Clean, remove seeds from pepper and dice.
Melt 1 tablespoon coconut oil in a medium non-stick pan. Sauté bacon and pepper. Set aside and keep warm.
Chicken breast -if chicken is significantly thicker in some parts than others, consider pounding it with a meat mallet so it cooks evenly. In same pan melt 1 tablespoon coconut oil, cook chicken on medium heat. Once chicken is about done, 6-10 minutes, spread each breast with ranch vegetable dip and top with cheese. Continue to cook until juices run clear and cheese is melted.
When plating the chicken top with bacon and pepper.
Side Dish:  Stir-fried Green Beans
While looking for the perfect side dish for the chicken, Alex came across a recipe by Jen over at Tiny Urban Kitchen called "Stir-fried Chinese Long Beans".  I already had fresh green beans in the refrigerator which I bought at the market. Even though the recipe calls for Chinese long beans, mine worked magnificently.
It was a very yummy dinner!
Sonya Kay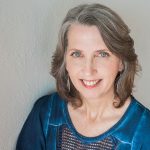 Entrepreneurship flows in Sonya's blood. Some businesses include an artistic rubber stamp manufacturing business, opening and running a bed & breakfast and having a fabric and yarn shop. As a serial entrepreneur she loves to mentor and coach small businesses. She misses farm life, loves to travel and enjoys her husband, children, their spouses and of course the grandkids.