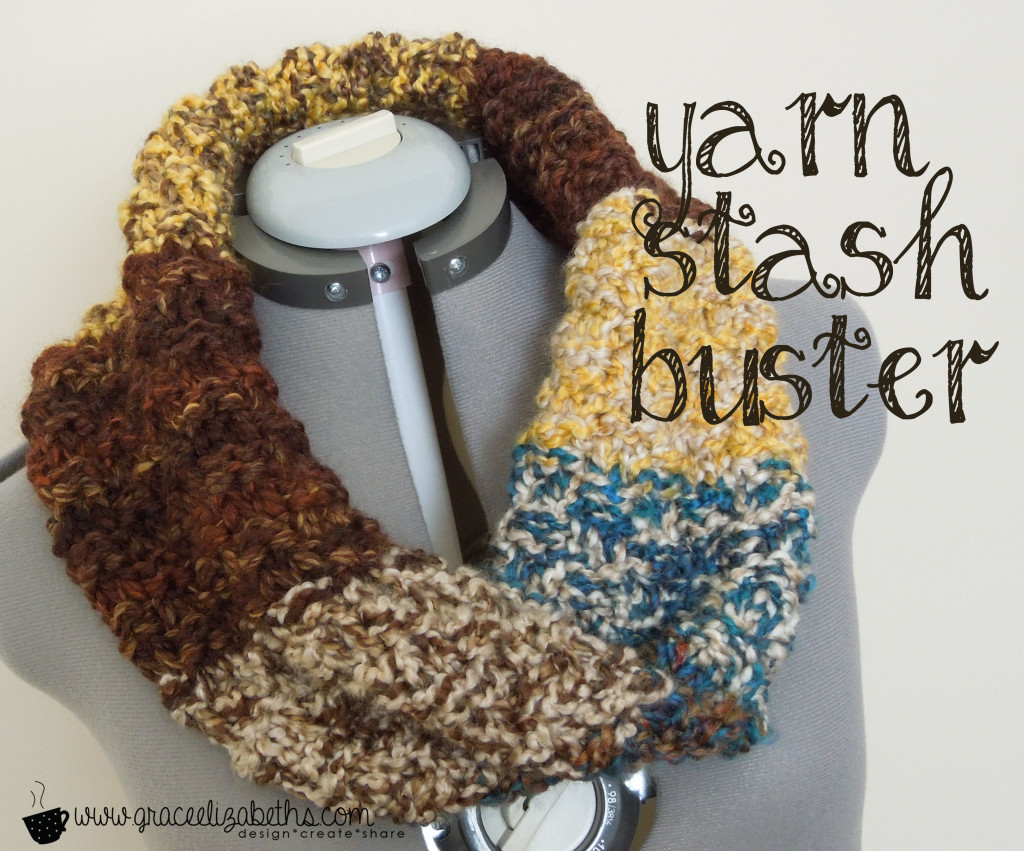 Are you ready for a "Yarn Stash Buster?"  This knitted cowl was a natural.  I simply used a tried and true pattern from a past post, so if you are looking for a free pattern, here it is – Easy Peasy Knitted Cowl.
I'm not sure which finished cowl I like best.  I remember being pretty pleased with the original cowl but I have to say I am thrilled with this new one.  First – because I love the colors and second – I didn't have to buy any yarn.  I already had this yarn in my stash.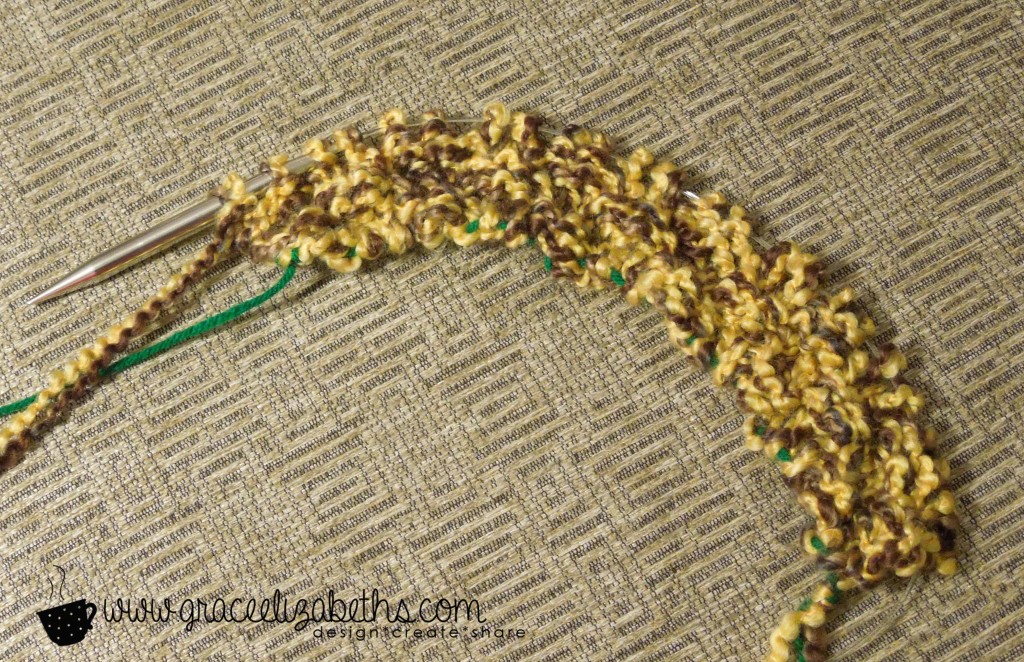 An invisible (provisional) cast-on was used so the cowl could be finished as a continual fabric. If you are not familiar with provisional cast-on be sure and follow the link for a step by step demonstration.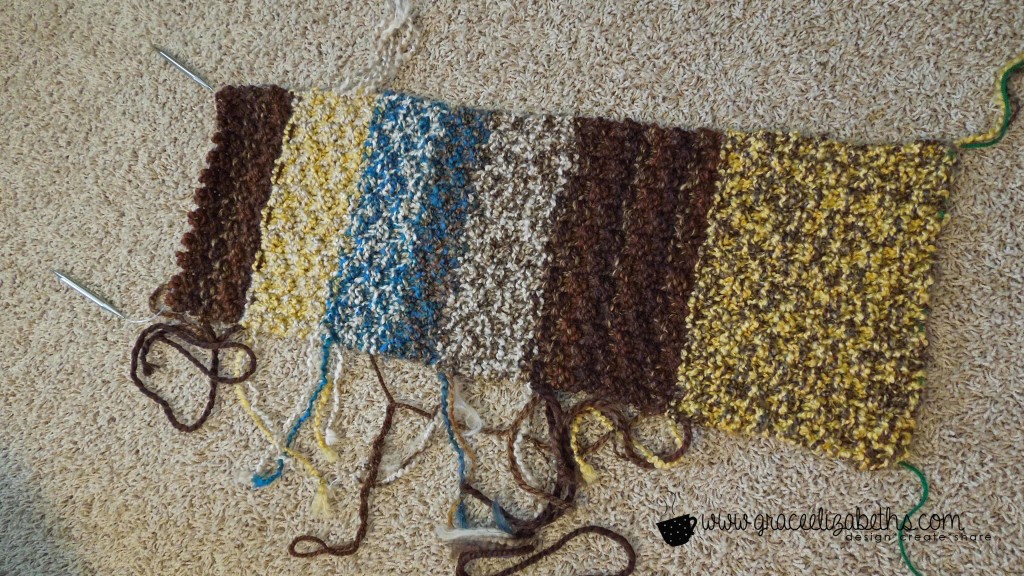 As you can see I used several colors of scrap yarns.  Most yarns were bulky weight and I held two different colors together and knit.  I started with yellow and brown and then found a super bulky weight yarn and knit it by itself.  Back to the bulky weight yarns I combined cream and brown, then brown and blue, then blue and cream, then cream and yellow and finished with the super bulky weight brown.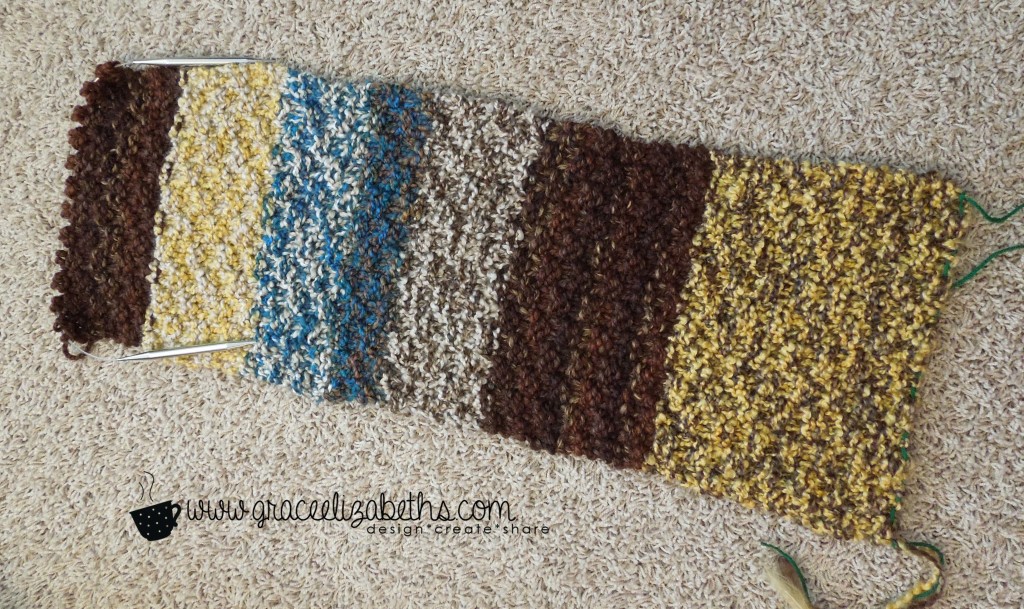 After tucking all loose ends, one twist was made to the fabric and then attached to the beginning using the kitchener stitch.  Ok – here is a bit of honesty.  I have yet been able to successfully use the kitchener stitch on a seed stitch pattern but because of the properties of the yarns I used you really couldn't tell that it wasn't perfect.  Here is a link that I will refer to next time I need direction for this procedure. Kitchener Stitch Tutorial.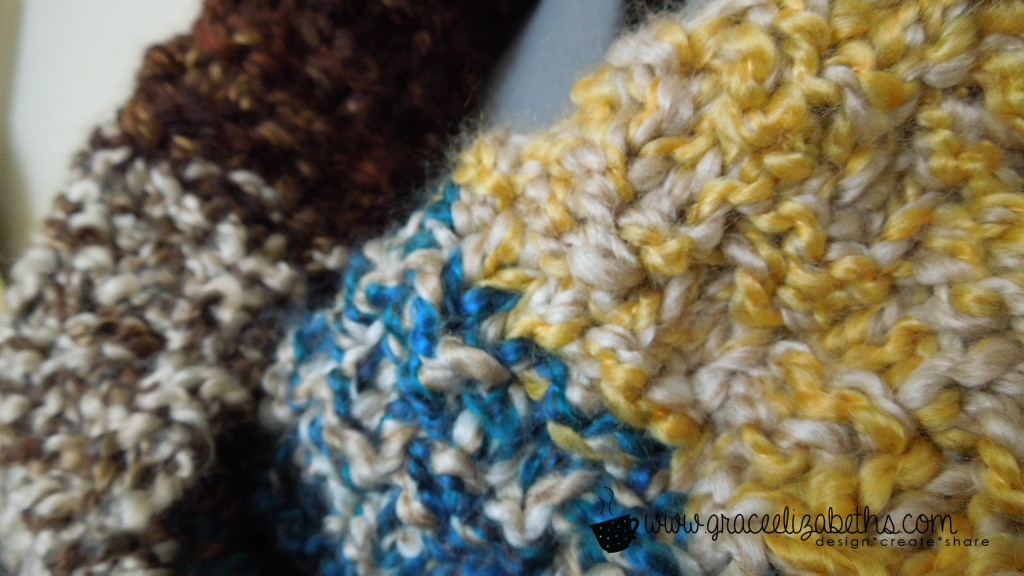 In this close-up you can see the combined yarns and texture of the stitches.  I love the look and feel of this scarf and can't wait to wear it.
What are you going to make with your yarn stash?
Happy Yarn Stash Busting!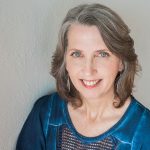 Entrepreneurship flows in Sonya's blood. Some businesses include an artistic rubber stamp manufacturing business, opening and running a bed & breakfast and having a fabric and yarn shop. As a serial entrepreneur she loves to mentor and coach small businesses. She misses farm life, loves to travel and enjoys her husband, children, their spouses and of course the grandkids.