Cleaning tools don't have to be boring. Add a bit of color in your kitchen with this Easy Pot Scrubber Pattern. I was introduced to this project through our church's "Helping Hands" group. We send these as gifts to the locals with our pastor when he travels to the mission field each year.
This is a quick and easy project but PLEASE NOTE: if you have never crocheted, this would not be a good "first project." Not because it has difficult stitches but because working with netting can be cumbersome. I don't want you to be discouraged. If you already know how to crochet, but have not worked with netting, just take your time. With some patience and stitching the stitches loosely it will be a breeze. Solid colored pot scrubbers are created by using 2 strips of netting or the same color. Variegated colored pot scrubbers are created by using 2 different colored strips of netting.
This slideshow requires JavaScript.
What would you use these scrubbers for besides scrubbing pots and pans?
Happy Crocheting!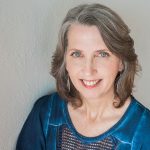 Entrepreneurship flows in Sonya's blood. Some businesses include an artistic rubber stamp manufacturing business, opening and running a bed & breakfast and having a fabric and yarn shop. As a serial entrepreneur she loves to mentor and coach small businesses. She misses farm life, loves to travel and enjoys her husband, children, their spouses and of course the grandkids.