Have you ever laid a patio yourself?  We did some time ago, but this time we put a little more thought and effort into it.  Maybe I should say our daughter and son-in-law put a lot of back-breaking, knee bruising effort into it.
Ok, now I have to be honest.  We didn't follow all the steps for a "professionally" designed paver patio. Lowe's website has a nice materials and tools list if you want to go the extra mile.  We chose not to put gravel down before the sand. We may regret that later but last time we skipped both the gravel and sand. We just laid the pavers on a semi-level base of dirt.  That patio served its purpose and we were not disappointed.
We purchased our 16″ x 16″ pavers on sale, of course, and bought 10 at a time making several trips to the store.  Since we do not have a pickup we felt we could only put the weight of 10 blocks at a time in our Kia Soul. For the sand we had a local sand and gravel company deliver 1 ton of sand.  Yes it was more than we needed but worth it rather than buying a zillion bags of sand.
Once we had all our materials we had to wait for the patio area to dry.  It rained off and on for several weeks but we finally had a perfect weekend – a bit hot – to lay the patio.  Unfortunately our soil is clay so removing the soil was very difficult: mucky, hard to dig and came out in large clumps.  Good thing we had a lot of sand to fill the big holes.
 Well that's about it.  You can see we used a level to place the pavers as even as we could.  We are very happy with the final product.  Someday we will get some edging bricks to finish around the edges, particularly by the plants.  Watch for updates.
Thanks Alex and Jake for making our patio!!!
Tell us about your patio project. Is this something you would attempt yourself?
Sonya Kay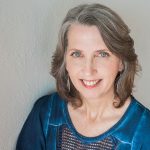 Entrepreneurship flows in Sonya's blood. Some businesses include an artistic rubber stamp manufacturing business, opening and running a bed & breakfast and having a fabric and yarn shop. As a serial entrepreneur she loves to mentor and coach small businesses. She misses farm life, loves to travel and enjoys her husband, children, their spouses and of course the grandkids.