You may be wondering: What ever happened to Courtney? Did she even return from Argentina?
Well, I definitely did, and I apologize for not updating you all sooner! To be honest, I tried writing this update shortly after returning, but I couldn't find quite the right words to express what I experienced. Then, my semester of student teaching began, and I never got around to finishing.
So here I am to give you an update!
As an overview for those who are unfamiliar with what I was doing in Argentina, I went for two months this summer as part of a team of 10 Midwesterners sent by NavMissions. To put it as concisely as possible, we essentially came alongside the existing Navigator ministry, supporting the staff, building relationships with students, and serving the community around us. I could tell you hundreds of stories about the people we met, cultural differences and similarities, and the crazy things that our team said or did, but I'll limit myself to sharing one story about the people we met and one story about what I learned.
At least one day a week, our team would serve at a children's home. We played with the kids, served them merienda, and built relationships with them. While serving there, our team was blessed to meet Ismael and Elena, the caretakers. Ismael shared with us how he was actually one of the first children to grow up at the home when it originally opened. Last year, God called him and his wife to leave their own family and jobs in order to return to the children's home to serve full-time. Even though they've been called, they haven't been met with open arms. There is a lot of spiritual darkness surrounding the home and the leadership. It was emotionally moving to hear Ismael share through his own tears how much he and his wife desire to love the children and share Christ with them, but how they are being met by spiritual opposition. They'd reached a point before we came where they began questioning whether God still wanted them to serve there. Though we could not answer their questions, we were able to encourage them through our words and actions as well as pray over them. Their obedience and faithfulness in following God's guidance in their lives despite hardship has been eye opening.
On a different front, I was extremely challenged spiritually by my time in Argentina. My biggest struggle was the spiritual warfare I experienced every time our team would go to campus to try and meet students. We would get on the bus to head to campus and my mood would plummet, a cloud would settle on my shoulders, and I felt I had no way of combatting it. This haze of confusion led me to feel like the least useful member of the team. It was through many one-on-ones with my team leader Emily that we began to uncover what was happening to me and why lies kept popping up. It was through the extreme circumstances of being stripped away from everything I knew and being placed in a foreign country that allowed me to confront parts of my life and begin to see how God's redeeming grace covers all. Despite my faults and inadequacies, God can use me for His purposes to further the gospel. I find confidence in Isaiah 55:11:
so shall my word be that goes out from my mouth;
it shall not return to me empty,
but it shall accomplish that which I purpose,
and shall succeed in the thing for which I sent it.
No matter how much I screwed up my Spanish, God's word was going to accomplish the purpose that he designed for it. So though the ups and downs, I was learning to rest in God. So much was out of my control – the culture, the language, the transportation, the conversations – everything. Therefore, I had to trust God with everything that was happening – the good moments, the moments of frustration and confusion, the moments of revelation, the moments of sorrow, of worry, of pain, the moments of excitement and anticipation, and of compassion – they were all moments given to me by God. He used each and every one of those moments to shape my heart and life. Was it easy? Was it pleasant? No. At times it was down right awful and disheartening, but God brought me through those moments to show me His greater picture and glory. In those times of great confusion and brokenness, I had no words to express what I was feeling, but the words of Romans 8:26 would come to mind:
Likewise the Spirit helps us in our weakness. For we do not know what to pray for as we ought, but the Spirit himself intercedes for us with groanings too deep for words.
When I was at a loss, the Holy Spirit was interceding for me. I think that I struggled so much this summer because I had a lot to grow in. I needed those challenges and worries to show me where my dependence is or should be. The only thing I can count on is God and His love for me that he sent his Son to die on the cross for my sins. He is not only good, but He is sovereign and worthy of my trust. He has a plan for me, and it is good. Is that plan what I think is good, easy and best for me? Not all the time, but it is good because it is from God. Even in those moments of torment, I knew that truth about God.
Since returning from Argentina, I've continued to grow in my dependence on God. My student teaching has recently concluded, graduation is coming up in December, and I'm looking to God's future plans for my life. It's pretty crazy to think that I've made it this far, and I'm now searching for what's next. It's also crazy because I'm confident right now that God's immediate plan for me doesn't include teaching.
Say what?
Yeah, even though my student teaching has been a positive experience and I definitely could see myself teaching in the future, I don't feel God is calling me to serve in that way at this time. God has used the last 2 ½ years to lead me toward what I believe His plan for me is right now: campus ministry! I've recently applied for the EDGE Corps with the Navigators. The EDGE Corps is a 1-2 year opportunity to be trained in ministry while reaching out with the love of Christ to college students who are spiritually hungry. I still have to go through an interview process, but if I am accepted into the program, I will receive training in January before being sent out to raise ministry support. If all goes well, I will be on a college campus (hopefully UNK) by August. I would appreciate your prayers as these plans unfold and I adjust to "life after college."
Thank you all again for your prayers and support during my time in Argentina. I look forward to what this next year holds and can't wait to share it with you!
Dependent on God,
~Courtney Rose~
Related Articles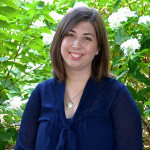 Courtney is a member of the GE Creative Team and is the monkey in the middle of this trio of sisters. Her degree might be in English and Spanish Education, but she's following God's call on her life and pursuing full time ministry with The Navigators. If she's not crafting, reading, or hanging with her hubby, you'll probably find her at a local coffee shop sipping her caramel latte and opening up the Bible with college women.