Summer and knitting – do they go together?  Well they do if you plan on knitting something to keep cool in these hot humid summer days.  Each summer I like to knit at least one item that I can wear to keep cool.  This year I chose a pattern by Patons: the Sunny Days Tank.  While browsing a local yarn shop I came across a lovely yarn by Louisa Harding Yarns called Merletto.  Its unique texture is accented by the sheen of the viscose strand twisted with the matte linen strand.  I chose Lagoon for the color.  The weight is DK .  I prefer knitting with worsted weight or larger for garments because I can complete a project faster.  However, sometimes one has to bite the bullet and just go for it.
After making my gauge I discovered I needed to make a few minor adjustments to the pattern.  I am not always very good at this but it worked and I am very happy with the fit. What I love most about the tank is the lace pattern that adds detail to the bottom.
What are you knitting this summer?
Sonya Kay
Related Articles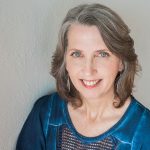 Entrepreneurship flows in Sonya's blood. Some businesses include an artistic rubber stamp manufacturing business, opening and running a bed & breakfast and having a fabric and yarn shop. As a serial entrepreneur she loves to mentor and coach small businesses. She misses farm life, loves to travel and enjoys her husband, children, their spouses and of course the grandkids.