Dessert has always been a staple in my life.  Growing up we always had dessert for dinner and supper.  Yes I said dinner for the 12:00 noon meal – a whole other topic that I will not discuss today.  Typically we had cake, pie and/or ice cream after the meal.  My favorite was ice cream.  It wasn't unusual for me to have it every day during the summer either after a meal or for a snack.
  With July 4th approaching this week I wanted to share an ice cream tradition in our family.  Several years ago I came across these cute ice cream sandwich molds (star, pig, cow) while perusing a kitchen store.  Since one of them is a star we began using it to make our celebratory dessert for the 4th of July.  Kids love them!
The following recipe was included in the package.  It works great and is yummy.
1/3 cup flour
1/4 cup cocoa powder
1 1/4 sticks unsalted butter, cut into pieces
4 oz unsweetened chocolate, cut into pieces
1 1/4 cups sugar
1 teaspoon salt
3 eggs
3 teaspoons vanilla extract
Preheat oven to 375 degrees.  Line an 11" x 17" jelly roll pan with parchment paper.
Over a sheet of waxed paper, sift together the flour and cocoa powder. Set aside.
In a double boiler combine the butter and chocolate. Heat, stirring often, until melted, about 4 minutes.
Remove the pan from the heat and stir in the sugar and salt.  Add the eggs and vanilla and stir until well blended.  Sprinkle the flour mixture over the chocolate mixture and stir just until blended. Pour the batter into the prepared pan and spread evenly.
Bake until a toothpick inserted into the center of the brownie comes out clean, 8-10 minutes.  Transfer the pan to a wire rack and let cool for at least 1 hour.
The recipe then tells you to use the molds to cut out the shapes and assemble the ice cream sandwiches according to the package instructions.  If you do not have molds you can still make the more traditional sandwich by cutting the brownie in half, top one half with softened ice cream, then top with second half of brownie.  Put into freezer to firm sandwich.  When firm put not frozen hard, remove from the freezer and cut into desired squares or logs.  Keep in a container in the freezer until ready to eat.  ENJOY!
What is your traditional food for 4th of July?
Happy 4th of July!
Sonya Kay
Related Articles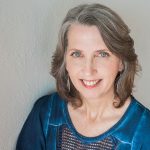 Entrepreneurship flows in Sonya's blood. Some businesses include an artistic rubber stamp manufacturing business, opening and running a bed & breakfast and having a fabric and yarn shop. As a serial entrepreneur she loves to mentor and coach small businesses. She misses farm life, loves to travel and enjoys her husband, children, their spouses and of course the grandkids.