Have you ever fell in love with a Charm Pack, bought it but then didn't know what to do with it?  Well here is what I did with mine – a baby quilt.  No- we don't have any announcements in the family but hoping someday 🙂
Charm packs are collections of 5″ x 5″ squares of fabric. The popularity of Charm Packs stem from the fact that they are affordable, easy to use, and the size is commonly used in quilting. Also often referred to as Charm Squares.
The pattern is a disappearing 9 patch design.  You can find several tutorials online.  They are really quite  simple and good for a beginner.
To finish the quilt I added a boarder, stitched in the ditch and added a binding. Now all we have to wait for is a baby announcement.  Hee Hee.
Tell me what you do with Charm Packs…
Happy Quilting!
Sonya Kay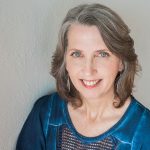 Entrepreneurship flows in Sonya's blood. Some businesses include an artistic rubber stamp manufacturing business, opening and running a bed & breakfast and having a fabric and yarn shop. As a serial entrepreneur she loves to mentor and coach small businesses. She misses farm life, loves to travel and enjoys her husband, children, their spouses and of course the grandkids.