Thank you to everyone who took the time to read my post last week about the mission opportunity that I have to work with a collegiate ministry in Argentina! Our team of 10 will be serving The Navigators' ministry in La Plata from May 31st to July 24th.  In order to be on the ground in La Plata building relationships among college students and sharing the gospel, it is imperative that I reach my program budget of $5000 before May 5th.
I am sure you are all curious about what all that $$ is going toward, so here is a rough breakdown of the dollars and cents:
Airfare = $1400
Food = $825
Lodging = $600
Administration = $620
Pre-field Expense = $680
Travel and Ministry In-Country = $875
I am currently 12% funded and very grateful to the friends and family who have been led to partner with me thus far. However, I am still asking you all to prayerfully consider contributing to this ministry opportunity that God has provided me.
If you are being led to give, you may click here to go to The Navigators' website. Click on the "Donate" tab at the top of the page. Type in either my name or ID number (23820071) to directly support this opportunity. Please send your gifts by May 5th. Your gifts are tax-deductible.
Thank you for prayerfully considering this investment in the Lord's work. In this next month, I hope to share with you more about what I am learning about Argentine culture while I am preparing. I will also be keeping you all up to date with the challenges, blessings and prayer requests during this time. I can't wait to share with you as you partner with me in this ministry opportunity!
~Courtney Rose~
Habakkuk 2:14 For the earth will be filled with the knowledge of the glory of  the Lord as the waters cover the sea.
Current Prayer Requests:
-That our entire Argentina Team would be 100% funded by May 5th.
-That God would prepare our hearts (and Spanish-speaking tongues) for cross-cultural ministry.
-That we would trust God to bring people and provide opportunities this summer.
-In light of the severe flooding in the La Plata region, that God would grant Chris, Flor and Paula (Navigators in La Plata) peace and understanding of how to lead others to Christ, that they'd be able to help those who have suffered loss, and that God uses this tragedy to advance His Kingdom.
Related Articles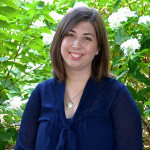 Courtney is a member of the GE Creative Team and is the monkey in the middle of this trio of sisters. Her degree might be in English and Spanish Education, but she's following God's call on her life and pursuing full time ministry with The Navigators. If she's not crafting, reading, or hanging with her hubby, you'll probably find her at a local coffee shop sipping her caramel latte and opening up the Bible with college women.