It felt as though the College of Education forgot me when placing student teachers for the fall, but there was no need to worry because I finally received my placement!
I'm ecstatic to announce that I'll be student teaching at Kearney High School!
The first half of the semester I will be in a sophomore English classroom, and the second half I will be in a Spanish I and II classroom. I am very excited to know where I will be student teaching in the fall because I am so much of a planner. Since I will be gone for 2 whole months of the summer, it is going to be nice to at least have an idea of what to expect in the fall.
So now is the perfect opportunity to begin praying for next semester! I'm praying that God would use the student teaching experience to show me where he is leading me to serve after graduation. Right now I'm keeping my options open and am considering whether He wants me in the field of education or if He wants to use me in full-time ministry. How any of that will work out, God only knows. But I'm praying that between my summer serving in Argentina and my student teaching in the fall that God would reveal where He wants to use me – at least for a time.
For now I'm going to finish the school year strong with the last of my finals and the end of my field experience at Kearney Catholic. Doing my best work and bringing glory to God daily.
~Courtney Rose~
Related Articles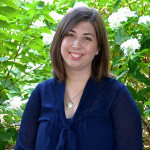 Courtney is a member of the GE Creative Team and is the monkey in the middle of this trio of sisters. Her degree might be in English and Spanish Education, but she's following God's call on her life and pursuing full time ministry with The Navigators. If she's not crafting, reading, or hanging with her hubby, you'll probably find her at a local coffee shop sipping her caramel latte and opening up the Bible with college women.