Today is the big day for our cousin Neal and his bride Lizzie! We are all just ecstatic to welcome Lizzie into the family and to celebrate with them on their wedding day!
As we are once again attending another wedding, it is always good to be reminded of God's Word on the subject. This semester in Navigators we have been studying the book of Ephesians in Bible study as well as during our once a week large group gatherings called Nav Night. I felt it was very fitting that last night our focus was on Ephesians 5:22-33 which just so happens to describe marriage:
Wives, submit to your own husbands, as to the Lord. For the husband is the head of the wife even as Christ is the head of the church, his body, and is himself its Savior. Now as the church submits to Christ, so also wives should submit in everything to their husbands. Husbands, love your wives, as Christ loved the church and gave himself up for her,that he might sanctify her, having cleansed her by the washing of water with the word, so that he might present the church to himself in splendor, without spot or wrinkle or any such thing, that she might be holy and without blemish. In the same way husbands should love their wives as their own bodies. He who loves his wife loves himself. For no one ever hated his own flesh, but nourishes and cherishes it, just as Christ does the church, because we are members of his body."Therefore a man shall leave his father and mother and hold fast to his wife, and the two shall become one flesh." This mystery is profound, and I am saying that it refers to Christ and the church. However, let each one of you love his wife as himself, and let the wife see that she respects her husband.
During Nav Night, our speaker Rob Clark, a former UNK Campus Director of The Navigators, shared with us God's plan for husbands and wives. A point that he made was that God has a plan and that plan is perfect, but we are not. Our sinful human nature is what stands in the way of realizing God's perfect plan. Thankfully, in Christ we are made perfect and holy in Him, who cleanses us of our sin. Praise God for His mercies that are new every morning! In Ephesians it describes how marriage is a picture of Christ and the church. The way that a wife submits to her husband should be an reflection of how the church submits to Christ, and the way that husbands love their wives should be a reflection of how Christ loved the church and gave himself up of her.
I understand that this passage brings up controversy, but I think that is because it is misunderstood, taken out of context, or used to manipulate. While discussing in small groups about what it looks like for wives to submit to their husbands, we talked about how submission is an invitation for the husbands to lead in the relationship. Wives are to put themselves under their husband's authority. It is important to recognize that this passage does NOT say that wives are to submit to men. It very clearly says to submit to their husbands. This submission also does not mean that a wife is to remain silent or to be used as a doormat. Women are not being told here to fade into the background, but instead to allow their husbands to lead just as Christ leads the church. There is no question about Christ being the head of the church, so why are we questioning whether men should be the head of their wives?
When discussing what it looks like for men to love their wives as Christ loved the church, we talked about what it means to give yourself up for another. In our group, we came up with examples of what that has looked like in our parents' marriages in little things like a husband treating his wife to a meal at a restaurant that she loves but he hates or a husband making his wife's cup of coffee every morning. Ultimately we described it as putting one's own needs aside in order to serve another's. Christ sacrificed his life for us, the church, and it is God's design that husbands would love their wives in a similar way.
Probably my favorite part of our discussion last night was seeing how marriage, working according to design, always directs our attention to Christ. Husbands and wives should both want each other's first love to be Christ alone. Through marriage, they are pushing each other to be who God made them to be – and that is the ultimate picture of Christ's love for the church.
~Courtney Rose~
Related Articles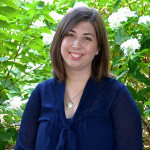 Courtney is a member of the GE Creative Team and is the monkey in the middle of this trio of sisters. Her degree might be in English and Spanish Education, but she's following God's call on her life and pursuing full time ministry with The Navigators. If she's not crafting, reading, or hanging with her hubby, you'll probably find her at a local coffee shop sipping her caramel latte and opening up the Bible with college women.