I may have been a bit over ambitious when I agreed to make three different types of cards this Valentine's Day (Follow these links to look at the hand stamped and scripture focused Valentine's cards!). Now that V-Week has arrived, I am not finding myself very motivated to complete this final card.
Because of my lack of motivation, I kind of took the shortcut on this Confetti Heart Card. I was inspired to try this card after running across The Creative Place's blog post when searching for card ideas. If you want to know the correct, neat or professional way to make this card, I would suggest visiting her site. She does a beautiful job!
For my card, like I said, I took shortcuts and the quality of my project suffered a bit. As a perfectionist I am not satisfied with it, but it did turn out super cute!
I first cut a heart template from another piece of cardstock. Then I traced the heart on the inside of my card. I then very carefully used my scissors to cut the heart out. I would suggest an exacto-knife though, if you have one, because my method involved slightly bending the paper to start my cut. I hole-punched the scrapbook paper that I used for my last two Valentine's Cards for the confetti. I used some cheap cellophane gift bags for the transparency pouch to put the confetti in. It was with this pouch that I began giving up on life and choosing the easy way out. I would suggest sewing together the edges of the pouch; however, I used a stapler to close the edges. Then I just used a glue stick to secure the pouch to the inside of my card.
Ta-da! A little lackluster, but still heartfelt, Confetti Valentine's Card!
Happy Crafty Valentine's Day Week!
~Courtney Rose~
Any suggestions on coming to a middle ground between perfectionism and quickness without losing quality? I'd love to hear them!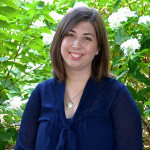 Courtney is a member of the GE Creative Team and is the monkey in the middle of this trio of sisters. Her degree might be in English and Spanish Education, but she's following God's call on her life and pursuing full time ministry with The Navigators. If she's not crafting, reading, or hanging with her hubby, you'll probably find her at a local coffee shop sipping her caramel latte and opening up the Bible with college women.