My favorite part about Valentine's Day has always been the heartfelt cards received from friends and family. No matter whether they were homemade or store-bought, it was the thought that counted.
It's been awhile since I've made any Valentines myself, so this year I thought I'd make up for lost time! In some new and fun Sorority Girl crafts leading up to February 14th, I will be sharing some nifty Valentine's Day cards that I'm making to show my love to some very special people.
Today's Sorority Girl Craft Time with Courtney is all about how to make this little beauty of a rose!
The rose not only holds a special place in my heart because it happens to be my middle name, but also it is the official flower of my sorority – Alpha Omicron Pi. In honor of all my AOII sisters, here is a sweet idea to make hand stamped roses in a very unexpected way!
Who would have thought that a stalk of celery could stamp the shape of a rose? After cleaning and cutting the celery, I brushed on some red acrylic paint and stamped a couple practice images.
Then I brought out the cards and started stamping away! It's important to keep even pressure on the celery. Sometimes when the image wouldn't turn out quite right, I was able to use my paintbrush to paint in the bare spots to complete the image.
I used some green to paint the petals and then just wrote my own sayings on the cards in sharpie. I wish I could have used calligraphy or painted the sayings on, but alas I did not have the supplies, patience or skills.
Happy Valentine's Day and Roses to all of my AOII sisters!
Alpha Love,
~Courtney Rose~
To give credit where credit is due, the original inspiration for this method was found on Maureen Cracknell's blog. Check it out!
I'd love to hear what your craft plans are for this holiday about love! Are you making cards, baking goodies or planning a romantic meal?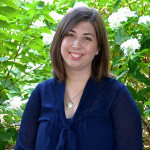 Courtney is a member of the GE Creative Team and is the monkey in the middle of this trio of sisters. Her degree might be in English and Spanish Education, but she's following God's call on her life and pursuing full time ministry with The Navigators. If she's not crafting, reading, or hanging with her hubby, you'll probably find her at a local coffee shop sipping her caramel latte and opening up the Bible with college women.