I recall as a young wife and mother a wise woman advised me to always have ingredients on hand to be able to throw together a quick meal for the unexpected guest.  Over the years I have also learned to have a gift box full of things that could be given as gifts for that unexpected event, birthday party, hostess gift, etc.  A staple in my "Gift Box" is handmade dishcloths.  I love making these and people seem to love receiving something handmade.
My quick-go-to pattern is what I call the Mormor's Dishcloth Pattern.  It's a good knitting pattern for beginners.  I came by this pattern from my grandma back in the '90s.  I have a photo copy of the pattern out of the August-September, 1991 "Best of Workbasket" magazine.  How many of you out there have a collection of "Workbaskets?"  I know my mother has a big box.  The pattern is easy…
Mormor Dishcloth Pattern:
Yarn: worsted weight 100% cotton (common yarn used is "Sugar 'n Cream" by Lily)
Needles:  US 10 (You can be flexible here – there is no gauge required)
Cast on 4 sts

Row 1: K across

Row 2: K 2, yo, k to end of row

Repeat Row 2 until there are 43 sts on needle.  (or less if you want to make is smaller)

Next – Dec Rows: K 1, K 2 tog, yo, k 2 tog, k to end.  Continue working dec row until 4 sts remain

Last Row: K across 4 sts, bind off
Happy Knitting!  Tell me what you like to give as a quick gift.
Related articles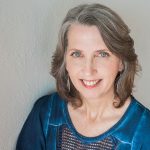 Entrepreneurship flows in Sonya's blood. Some businesses include an artistic rubber stamp manufacturing business, opening and running a bed & breakfast and having a fabric and yarn shop. As a serial entrepreneur she loves to mentor and coach small businesses. She misses farm life, loves to travel and enjoys her husband, children, their spouses and of course the grandkids.