After a long and lovely I-80 experience on Friday morning, I made it safely to Omaha.
A trip to the zoo, a visit to a friend's sister in the hospital, and we were set to attend Wicked at the Orpheum. We spiffed up in our Sunday's best and walked the staircase of the theatre.  The show itself was amazing!  I've seen it once before, but it just seems to get better!  The voices were powerful, and the songs sent shivers down my spine.  I would see it again, if I could!  I cannot wait to see another play 🙂 Sadly, with my college student's budget a play will not be in my near future… for now I will just have to return to reality.
I was also honored to be able to serve in my "big sister's" wedding this Saturday.  My sorority sister asked me to hand out programs for her wedding.  She was a gorgeous bride, and it was a joy to share in her special day.  I wish her and her new husband the best as they start this new life together!
This wedding has turned my thoughts once again towards Alex's big day, only two months from tomorrow.  I cannot wait to see her walk down the aisle and marry her high school sweetheart.  She deserves to have a day of celebration centered on her new future.
~Courtney Rose~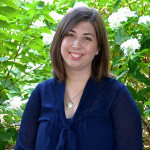 Courtney is a member of the GE Creative Team and is the monkey in the middle of this trio of sisters. Her degree might be in English and Spanish Education, but she's following God's call on her life and pursuing full time ministry with The Navigators. If she's not crafting, reading, or hanging with her hubby, you'll probably find her at a local coffee shop sipping her caramel latte and opening up the Bible with college women.