Now don't deny that when you hear the words "sorority" and "girl" in the same sentence that images from Legally Blonde and Sydney White pop into your head!  Well I hate to break it to you all, but once again not everything that happens in the movies happens in real life.  In fact at my university we are proud to say that we break the stereotypes.  I personally break the stereotypical sorority girl in many ways, but one way in particular is through my creativeness and DIY spirit.
As you may have noticed by now, DIY is in our genes.  When our family goes shopping, we are always struck with the idea: "I think I could make that myself." Whether it is a sweater, a headband, a purse, or a potholder, we are constantly scrutinizing the construction of items to see if we can indeed make them ourselves.  These habits have continued on into my college and sorority experiences.  My creative streak has influenced my sorority life so much so that anytime I am working on a project they call it "Craft Time with Courtney."
This craft time first began when I came across a link on the internet of how to create boutique bows.  While I was experimenting, several girls stopped by my room to socialize.  They were amazed by the process and asked if I would make them bows too.  Rather than simply saying yes to their request, I offered to teach them how to make their own bows.  Some were more successful than others, but it was the memories made that were most important. Since then I have been the go-to girl for any craft project at the sorority.
Because the sorority is such a big part of my life, I would like to share the creative part of it with you all.  Once a month I hope to share some of the crafts that I come across as I create things for the sorority.  For instance, I will share how to make the boutique bows, how to sew fabric letters for decorating t-shirts and accessories, among other projects that might interest a crafty sorority girl.
~Courtney Rose ~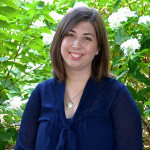 Courtney is a member of the GE Creative Team and is the monkey in the middle of this trio of sisters. Her degree might be in English and Spanish Education, but she's following God's call on her life and pursuing full time ministry with The Navigators. If she's not crafting, reading, or hanging with her hubby, you'll probably find her at a local coffee shop sipping her caramel latte and opening up the Bible with college women.