Renting your first apartment is one of those milestones in life.  I have just recently had the opportunity to check this milestone off my list as I signed the lease to my first apartment.  Let me just tell you that with that pen in my hand I truly felt like I was finally an adult; no parent standing over my shoulder to reassure or discourage this decision.  I am on my own! Well… except that I signed the lease with one of my best friends who happens to be a single mother of a six month old boy.  So essentially I guess I will never be alone… nor will the apartment ever be quiet… but it is the concept that counts!
So now that I have an apartment, I need to figure out what to do with it.  I am only a poor college student rooming with an equally poor single mother who is also going to school.  We have come to the fact that it is going to be a challenge to decorate our space with the little money that we have.  However, I plan to live up to my sorority reputation of "Crafty Courtney" and make our little apartment feel like home!
So follow me on my journey through diy home decorating on a budget as I weigh the pros and cons of making it myself or buying it from the store.  It is sure to be an adventure!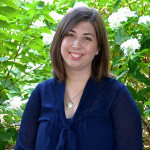 Courtney is a member of the GE Creative Team and is the monkey in the middle of this trio of sisters. Her degree might be in English and Spanish Education, but she's following God's call on her life and pursuing full time ministry with The Navigators. If she's not crafting, reading, or hanging with her hubby, you'll probably find her at a local coffee shop sipping her caramel latte and opening up the Bible with college women.