What does winter in Nebraska bring?  Yes – snow and ice.  And what does all Nebraskan's have in their winter wardrobes?  Hats!  Yes,  we all need hats to keep our heads and ears warm from the cold. Today I am going to share an easy knitted hat pattern you can use for a quick man gift or just because.
During the summer I was anticipating a knitted hat project for my husband Rick but I never got around to it. A couple of days ago we received our first snow and ice storm.  Oh, no – Rick is without a hat.  I had a little extra time and began to searching for a pattern on Ravelry.com and found this free pattern, "Turn a Square" by Jared Flood.  I was looking for a simple design because I knew Rick would not appreciate cables or any funky design. This pattern was perfect and it had some striping which made me happy. It's difficult for me to do "plain" if you know what I mean.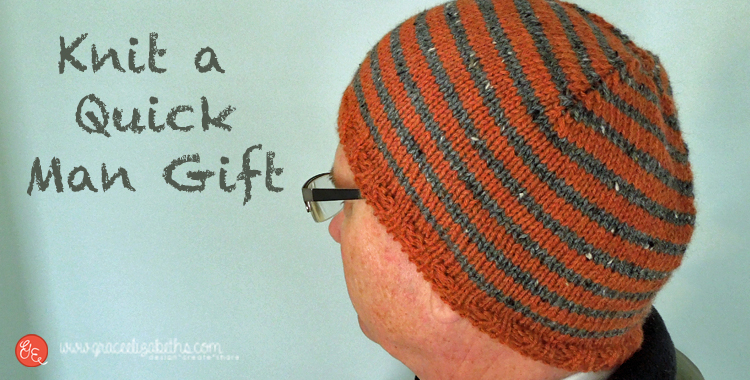 If you are planning ahead, you could plan out the yarn type and colors that would best work into your man's wardrobe.  However, I turned to my leftover yarn stash and found the perfect yarns for Rick's hat. I found an orange wool yarn (Berroco Vintage)
leftover from a sweater I knitted Rick a couple of years ago and a gray heather wool yarn (Knit Picks – Wool of the Andes Tweed) leftover from a cable cardigan I completed a couple of weeks ago. The cardigan still needs buttons before I can write up an article on it.
I measured Rick's head, including his ears since they would be covered with the hat and it measured 23.5 inches.  According to the pattern, this was the maximum circumference for the hat to fit.  This worried me a bit, but my gauge matched the pattern gauge so I jumped in.
I followed the 2×2 tubular cast on as suggested by the pattern using the two smaller needle sizes as directed.  I had never used this cast on before and discovered I like it!  It gives the edge a very nice rounded edging rather than a blunt, flat edge.  Once I finished the ribbing I evaluated the circumference knowing Rick has a big head (hehe).  Sadly, this was not going to fit over his head.  I frogged (ripped out) and started over by using the same size needle suggested for the entire project rather than the smaller needles.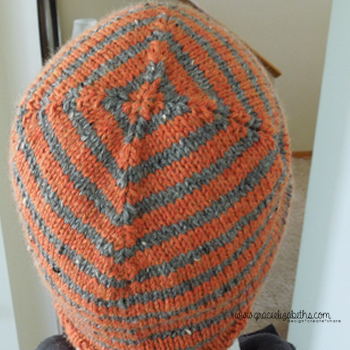 The pattern is well written and it took me maybe 5-6 hours. This is of course approximate because I didn't do it all in one sitting and it was knitted over a couple of days.  I'm very happy with the finished project.  It looks nice and Rick says it fits well but a little loose around the ears.  The yarn is wool so we will see if the elasticity properties of the wool will keep it from stretching out too much over time. The next time I use this pattern I will consider using a smaller needle size for the ribbing and see if that corrects the loose fit.
Do you have a favorite hat pattern?  Do you have a "go-to" man gift?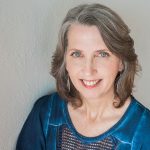 Entrepreneurship flows in Sonya's blood. Some businesses include an artistic rubber stamp manufacturing business, opening and running a bed & breakfast and having a fabric and yarn shop. As a serial entrepreneur she loves to mentor and coach small businesses. She misses farm life, loves to travel and enjoys her husband, children, their spouses and of course the grandkids.