When Nathan and I began talking of marriage, I started to understand the real possibility of him being called to full-time vocational ministry. Of course, I figured it would be many years in the future. I was only a semester into college when we married January 2013. While I didn't enjoy school, I knew I would be finishing one way or the other. I just tried to accept it.
A few months into marriage Nathan was just finishing a fast and God had planted the thought in both of our minds that vocational ministry may be closer than we originally thought. So we began seeking opportunities for Nathan. After a year of interview processes with a few churches and no job offer, we thought Kearney was where God wanted us for now. In May, Nathan began a full-time job to replace his two part-time jobs to make our life a little more liveable. I had worked hard taking several summer classes and was set to graduate summer 2015. Everything looked good! We were content. Then we got the email.
A church emailed my husband saying their application process had gotten delayed and wanted to check if he was still interested. No big deal, we said yes. Soon after Nathan had a phone interview. Nothing new for us, plenty of short interviews before. Then he was asked to do a Skype interview. Okay, one step at a time, we have been through this before. Filled out personality tests, sent doctrinal statement, a few other things. We find out we were one of two remaining candidates. Still this doesn't mean anything. We have been close before. Each time we were pointed back to Kearney. Then something new: a soft visit with the possibility of a candidating weekend. Wow. Okay… is this really happening? Is God really sending us somewhere else? An 11 hour car ride and we arrived for the first time in Devils Lake, ND. A weekend spent with some of the church and we were invited back 2 weeks later to candidate. That weekend could not come fast enough. Our life was up in the air. No plans could be made too far in the future without alternatives. After being welcomed by the church and drilled with questions (okay, Nathan was drilled I was only asked a few totally off topic questions), the congregation voted and we were given a call letter. WOW!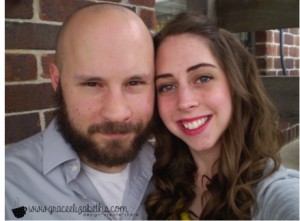 Is this really happening? I had finally accepted living in Kearney and finishing college in a year. What does this mean for me? And then it hit me, why am I thinking about ME? My life is not about me. My life is God's. I am only here for his glory. Apparently I am supposed to be in North Dakota glorifying him. He is in control. So now I am trying, with the Spirit's help, to align myself with God's plan. I am to be a youth pastor's wife. As usual God has worked all the little details out. My major is beginning to offer almost all classes online so I can still finish at my current college. It just might take the usual 4 years. We had to break our lease a month early, but a new tenant will be moving in so we don't have to pay rent twice. We found an apartment that is available the day we arrive. We already have a hotel booked super cheap for Courtney's wedding we will have to come back for in October. So many other details are getting taken care of! I am learning to release my worry.
Thursday we pack our U-Haul and Friday we leave the state! North Dakota better get prepared for a California boy and a Nebraska girl!
God is so so good!
Mackenzie Grace
Mackenzie is a member of the GE Creative Team and is the youngest of the trio of sisters. As a recent graduate in Family Studies, she uses her degree as the wife of a youth pastor and mentors teen girls. She's a Nebraska girl living through North Dakota winters mostly by crocheting and sipping chai tea.