This recipe has been a long-time family favorite. It's a twist on traditional cole slaw. The ramen provides some extra crunch – and the dressing a bit of tang. This a great side for a picnic or potluck!
Broccoli Slaw Salad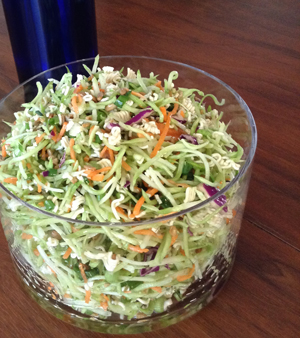 This salad is a go to salad for potlucks and family gatherings. Who knew my kids would love broccoli slaw.
Yields: 12 Servings
Salad:
1 (2 lb) bag Broccoli Slaw
4 stalk green onions, chopped (tops too)
2 pkgs ramen noodles (chicken flavor) uncooked, broken, separated
1/2 cup sunflower hearts
Dressing:
3/4 cup oil
1/2 cup sugar
1/3 cup cider vinegar
1 packet ramen seasoning (comes in package with noodles used above)
In a large bowl, toss together broccoli slaw, green onion, ramen noodles, and sunflower hearts.
In a small bowl, mix dressing ingredients together. Pour over salad and toss.
Chill in refrigerator one hour or more.
Note: I don't pour all the dressing over the salad to cut calories.
If you give this recipe a try, we'd love to hear from you! Do you have a go-to family favorite for picnics and potlucks?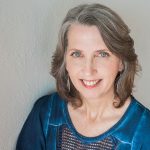 Entrepreneurship flows in Sonya's blood. Some businesses include an artistic rubber stamp manufacturing business, opening and running a bed & breakfast and having a fabric and yarn shop. As a serial entrepreneur she loves to mentor and coach small businesses. She misses farm life, loves to travel and enjoys her husband, children, their spouses and of course the grandkids.