As I've been raising support these past few months, a common question that I'm asked is "What is your need?" Most people who ask that question want to know my financial needs. While it is true that I am in need of financial support during my next two years of full-time ministry with The Navigators at UNK, there is more to it than that. There is a need far greater than my finances, far greater than myself. Jesus explains this need in the Gospel of Matthew:
Matthew 9:35-38

And Jesus went throughout all the cities and villages, teaching in their synagogues and proclaiming the gospel of the kingdom and healing every disease and every affliction. When he saw the crowds, he had compassion for them, because they were harassed and helpless, like sheep without a shepherd. Then he said to his disciples, "The harvest is plentiful, but the laborers are few; therefore pray earnestly to the Lord of the harvest to send out laborers into his harvest."
Jesus saw the problem of the hour: the crowds were broken and afflicted, searching for healing and help. He reacted with compassion, and shared with His disciples the need of the hour to meet this problem: laborers in the Lord's harvest field. The people needed men and women who would love them with the compassion of Jesus, lay down their own agendas, and bring good news to the harassed and helpless.
That's the need of the hour: laborers, ordinary field hands. Not better facilities or more equipment, literature, time, or money. Not seminary-educated super-evangelists. Not even more Navigator staff. The need is ordinary men and women who believe that God is God, and that He is more interested in spreading the Gospel than we are. The Navigators' founder, Dawson Trotman, put it this way in his message  "The Need of the Hour":
I believe it is an army of soldiers, dedicated to Jesus Christ, who believes not only that He is God but that He can fulfill every promise He has ever made and that there isn't anything too hard for Him.
These men and women must believe that My God Reigns!
Nothing can hinder God. To be lacking anything will not stop Him. We must believe that God has a far greater interest in getting things done for the Gospel than we do. Who are we to doubt Him?
As I look at UNK, I see a plentiful harvest. I see countless students in need of the shepherding and compassion of Jesus. And I see far too few laborers bringing them the Gospel.
Please pray with me for laborers to be built up and sent out through the ministry at UNK. It is our desire to come alongside students and help them develop their faith as they learn to study the Bible and disciple others. I pray that God would call these students we invest in to be laborers in the harvest. That they would be bold in sharing their faith, and that after graduation they would continue to labor wherever God sends them – the workplace or the mission field.
God has already begun to answer this prayer in a small way through me. It was through The Navigators at UNK that I was invested in as a student and began the journey of my calling to ministry. I am so blessed to have been invited to continue on at UNK now, and invest similarly into the lives of other women on campus.
'Til all have heard,
~Courtney Rose~
Related Articles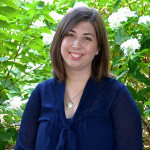 Courtney is a member of the GE Creative Team and is the monkey in the middle of this trio of sisters. Her degree might be in English and Spanish Education, but she's following God's call on her life and pursuing full time ministry with The Navigators. If she's not crafting, reading, or hanging with her hubby, you'll probably find her at a local coffee shop sipping her caramel latte and opening up the Bible with college women.