With the weather forecast for central Nebraska looking pretty grim, I am eagerly anticipating what might become a snow day tomorrow! Here's to hoping for a day filled with hot chocolate, warm blankets and maybe some blogging 🙂 Oh, and I suppose some homework would need to fit in there somewhere too…
Stay bundled!  Tell us what you like to do during a winter storm.
~Courtney Rose~
Related articles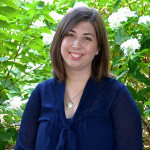 Courtney is a member of the GE Creative Team and is the monkey in the middle of this trio of sisters. Her degree might be in English and Spanish Education, but she's following God's call on her life and pursuing full time ministry with The Navigators. If she's not crafting, reading, or hanging with her hubby, you'll probably find her at a local coffee shop sipping her caramel latte and opening up the Bible with college women.