I was asked not so long ago, "how many pairs of socks have you made?"  I honestly didn't know the answer.  I started to knit again after putting my needles down for over a decade.  It was all prompted by the ice storm of Dec. 2006.  Our part of the country was hit with a devastating storm.  We were without electricity for a couple of days but others were in the dark for a week or more.  Fortunately our house had a wood fireplace and we all gathered in the "hearth room" to stay warm.  As boredom set in I decided to trek up to the attic and pull out all my stashed yarn and needles.  I helped the girls learn to knit over the next several hours and we were hooked, or should I say needled.  Actually, we all like to crochet too.
After the storm, I started investigating projects to knit.  I kept seeing sock patterns everywhere I turned and decided I would take on the challenge.  You see, I had never made socks before. I had never used such tiny yarn and I had no understanding of double-pointed needles. Thanks to the Internet and all the helpful web sites and videos available, my first socks turned out ok.  I knew they weren't perfect but they were wearable, woolly and warm.   On to my next pair to improve my technique.  I found myself knitting while watching tv in the evening and they were easy to travel with so my knitting bag went everywhere I went.  My first socks took about a month to make.  As time passed I could get a pair done in 2 weeks if I was diligent and the pattern was simple.
After 6 years of knitting socks, I would guestimate that I have made 30+ pairs.  I wear them almost every day in the winter and my feet never get cold (most are made out of wool yarn).  My favorite pair is made from a colorful variegated lace yarn by Poems.  The pattern I used is Spring Forward by Linda Welch.   They are in the picture above on the right end.
Have you ever knitted socks?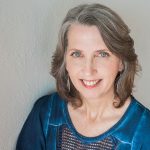 Entrepreneurship flows in Sonya's blood. Some businesses include an artistic rubber stamp manufacturing business, opening and running a bed & breakfast and having a fabric and yarn shop. As a serial entrepreneur she loves to mentor and coach small businesses. She misses farm life, loves to travel and enjoys her husband, children, their spouses and of course the grandkids.